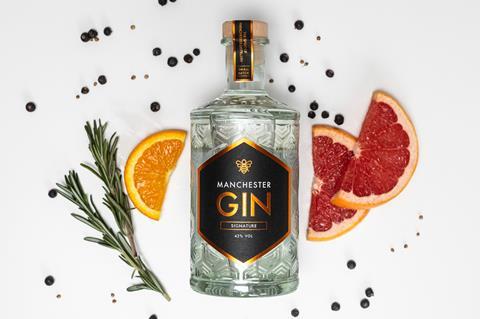 Manchester Gin has switched to using bottles made from predominantly recycled glass – in an effort to make its business more sustainable.
The distiller's entire range of gin will now be packaged in glass bottles made with an average of 55% recycled glass.
It said the move would "drastically reduce its energy consumption, carbon footprint and use of natural resources", while maintaining the brand's "iconic hexagon embossed packaging".
To make the new bottles, Manchester Gin's supplier, Allied Glass, sources cullet (waste glass) from bottle banks and kerbside collections.
The booze maker said the bottles could be "infinitely recycled without any deterioration of the quality of the product".
Its co-founder and master distiller Seb Heeley added that the brand had "taken many steps to reduce our carbon footprint" and the latest pledge would "reduce this even further".
The new bottles looked "almost identical" to the previous ones, he said, though the hexagon print had become more defined, making the bottle "more tactile and eye-catching".
In a further bid to reduce glass wastage, the gin brand had planned to run a bottle refill initiative at its Spirit of Manchester distillery. Shoppers were to be invited to bring their empty Manchester Gin bottles and fill them for £5 less than buying a new bottle. However, the scheme has been put on hold due to the Covid-19 pandemic.