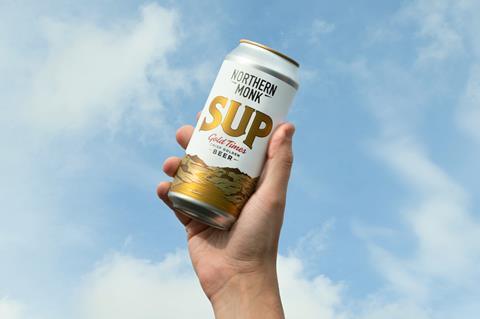 Northern Monk is to launch Sup, a 3.4% abv ale, in a bid to tap into demand for lower-strength beer.
It was designed to be an "an accessible, easy-drinking, beer" with "subtle citrus and resinous notes with a hint of pine", the Yorkshire craft brewer said.
It will launch in Tesco with an rsp of £6 per 4x440ml pack. It will also be available via the brand's DTC platform.
"We're excited about Sup, we wanted to really nail a 'no-nonsense' beer, and this started with Just Beer a couple of years back," said Northern Monk founder and CEO Russell Bisset. "Extensive research of what we like to drink led us to a 3.4% golden ale – really sessionable, easy-drinking: a beer for all occasions.
"Consumer drinking habits are leaning towards lower-abv beers so we hope people will be excited to try Sup."
It comes after the government overhauled the UK duty system last month; upping the abv at which beers receive a duty discount from 1.2% to 3.4%.
That move has led several breweries including Carlsberg Marston's to reformulate existing beers to take advantage of the lower rate.
Others, like Damm, Five Points Brewing Co and Vault City have launched new brews at 3.4% abv.