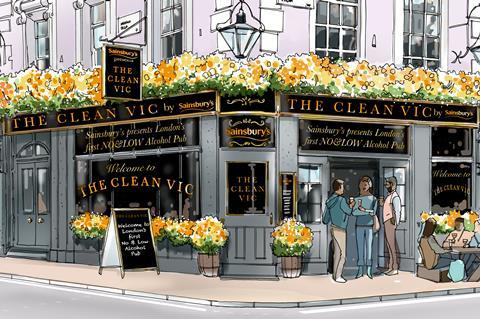 Sainsbury's is playing up its virtuous credentials by opening a no and low alcohol pub pop-up.
The retailer will open the pub, dubbed The Clean Vic, on New Oxford St in London on 24 and 25 July.
It will serve a range of low and non-alcoholic beers, wines and spirits, as well as a new drink called Celtic Soul, which it claims is "the UK's first non-alcoholic dark distillate".
The Clean Vic will charge £5 on entry, netting visitors two drinks and two bar snacks per visit. It will also run a range of "immersive masterclasses" for "punters looking for some inspiration on how to cut down on their alcohol intake".
The retailer was "seeing a really exciting spike in the no and low alcohol category", said Sainsbury's buyer Anne Cooper.
But, she added: "From speaking to customers, we know there is still some uncertainty about what these no and low alcohol products taste like and how they are made. So, our specially curated workshops in the Clean Vic will help customers learn more about these drinks, providing key tasting notes given by the experts."
Last month Sainsbury's ran a similar 'meat-free butchers' pop-up showing off its plant-based food offering, in Old Street, where it showcased 'Shroomdog' sausages, pea protein mince, and pulled jackfruit.
It also had an in-store 'butcher' who weighed and wrapped products like a traditional butcher.