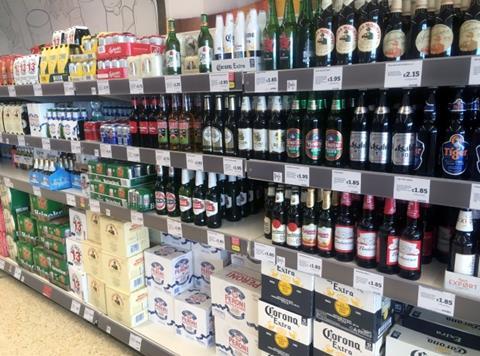 Scotland is set to finally enforce minimum unit pricing legislation on alcohol after the Supreme Court threw out an appeal by Scottish Whisky makers.
The Bill, originally passed by the Scottish government in 2012 to crack down on hazardous drinking, was challenged by the Scotch Whisky Association and European trade bodies on the grounds it breached EU laws on the free movement of goods.
Handing down the judgment this morning (15 November), deputy president of the Supreme Court Lord Mance said the court unanimously dismissed the appeal on the grounds MUP was "a proportionate means of achieving a legitimate aim".
Ministers will now mount a consultation on what the minimum price will be, with the Scottish government anticipating it will be 50p/unit.
Scottish health secretary Shona Robinson welcomed the verdict, calling it "a historic and far-reaching" judgment. "Given the clear and proven link between consumption and harm, minimum pricing is the most effective and efficient way to tackle the cheap, high-strength alcohol that causes so much damage to so many families."
She planned to make a statement to the Scottish parliament "as quickly as possible", which would lay out a timetable for implementation and detail how the government should engage with retailers and industry, she added.
Scottish first minister Nicola Sturgeon tweeted she was "absolutely delighted" at the news, calling it "a bold an necessary move to improve public health".
The Scottish government has repeatedly cited Sheffield University research from 2014, which claimed a 50p minimum price could result in 121 fewer deaths per year by year 20 of the policy, and a fall in hospital admissions of approximately 2,000 per year in the same timeframe.
Karen Betts, chief executive of the Scotch Whisky Association, said: "We accept the Supreme Court's ruling on minimum unit pricing (MUP) of alcohol in Scotland. Looking ahead, the Scotch whisky industry will continue to work in partnership with the government and the voluntary sector to promote responsible drinking and to tackle alcohol-related harm."
The SWA would now look to the Scottish and UK governments to "support the industry against the negative effects of trade barriers being raised in overseas markets that discriminate against Scotch whisky as a consequence of minimum pricing, and to argue for fair competition on our behalf" she added.
David Cameron vowed to introduce the law across England and Wales in 2012, but reneged on plans in the face of fierce oppotision from the drinks trade. However, Wales now plans to enforce MUP, it was revealed last month, after public health minister Rebecca Evans introduced the Bill to Welsh Assembly.
Drinkers "unfairly penalised"?
Opponents to MUP argue the law unfairly penalises moderate drinkers, as well as disadvantaging retailers and suppliers. A spokeswoman for Aston Manor Cider said MUP's premise was flawed as it was based on an untested forecast model that believed the heaviest drinkers were very sensitive to price increases.
"Those working in drug and alcohol services and the homelessness sector are clear that to make a misused substance more expensive or to restrict supply will merely displace misuse to another substance or prompt a greater proportion of scarce resources to be directed to sustain misuse, making matters worse for those in crisis and those around them," she said.
"The same time and money would have been better invested to support people struggling with substance misuse and to develop more effective approaches."
Kenny Alexander, Scottish spokesperson for consumer group Drinker's Voice, slammed the Supreme Court's decision, calling it "an attack on our culture and our heritage" because it would drive up the cost of whisky.
"The poor, the young and the moderate majority are being made to pay the price for the excessive drinking habits of a few middle-aged and middle class drinkers," he said. "It won't be the ideologically driven rioja-drinking medics and academics who have campaigned for this measure that will feel the pinch but the average man and women who enjoys the simple pleasure of a drink at a price they can afford."
Yet cider giant C&C welcomed the decision as "a progressive step forward in tackling the problems of alcohol misuse" that would help to tackle the availability of cheap alcohol and "its correlation with harmful drinking that causes misery across Scotland".
The precedent set by the Supreme Court today could have "potentially significant" implications for rules governing government intervention in markets, said Graeme Young, competition partner at law firm CMS.
It was "one of a number of similar initiatives, including, for example, introduction of a sugar tax and energy price caps, where there appears to be a greater appetite to implement targeted market interventions to change consumer behaviours" he said.