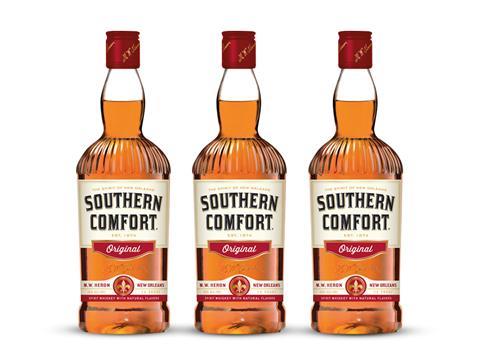 Southern Comfort has unveiled revamped packaging and new positioning with the strapline 'The Spirit of New Orleans'.
The 140-year-old brand's revamp, which will land on UK shelves in the summer, includes a label aimed at better representing the brand's whiskey credentials and New Orleans heritage.
The Southern Comfort Original 35% abv bottle (rsp: £21/70cl) has been made taller and slightly narrower but will retain its fluted shoulders, and bears the signature of creator MW Heron.
"We believe the new packaging reinforces the brand's authentic whiskey and New Orleans roots," said Kevin Richards, senior marketing director at Southern Comfort owner Sazerac.
"New Orleans was an integral part of Southern Comfort's positioning for decades. We're excited to reinforce that critical connection into the future. Like Southern Comfort, New Orleans is adored for its uniqueness and spirited character."
Dan Bolton, managing director of distributor Hi-Spirits, said: "Southern Comfort in the UK is the same high quality, premium spirit that it has always been, with whiskey at the heart of the recipe.
"With the brand's whiskey roots and heritage in New Orleans, a city known for good times and great cocktails, the new-look packaging and positioning capture that spirit perfectly."