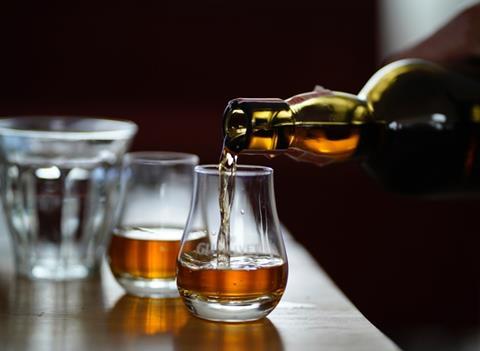 The Scotch Whisky Association has joined forces with the European and US whisky industries to urge an end to the transatlantic tariff war.
SWA CEO Karen Betts met with MPs and government officials yesterday to implore the UK government to urgently negotiate a solution to the trade dispute.
Scottish whisky was among a raft of products hit by US tariffs in October, in retaliation for illegal EU subsidies to aircraft manufacturer Airbus.
It caused Scottish single malt exports to the US to fall by a third against the same period the previous year.
"Many smaller scotch whisky companies are now asking themselves how they can continue exporting to the US, whether they can build up alternative markets, and if not, how their businesses will cope," said Betts at today's event.
It follows meetings on Monday between SpiritsEurope, the Distilled Spirits Council of the United States (DISCUS), and EU and US officials in Brussels to encourage officials to open talks.
SpiritsEurope director general Ulrich Adam said "no concrete proposals" were discussed, but there appeared to be "a genuine wish on both sides to rebuild the relationship".
"It's very much in the infancy stage but we're seeing a lot of good vibes coming out."
Since October, the White House has completed the signing of a new NAFTA agreement, a 'phase 1' deal to ease the Chinese trade war and a new US-Japan trade deal. DISCUS VP Rob Maron said he hoped this would allow the focus to turn towards resolving issues with Europe.
"There's limited bandwidth for the agencies in the US government that focus on trade. But now with three important wins for the Trump administration they will be able to pivot towards Europe," he said.
"We just want it to get back to where we were before."