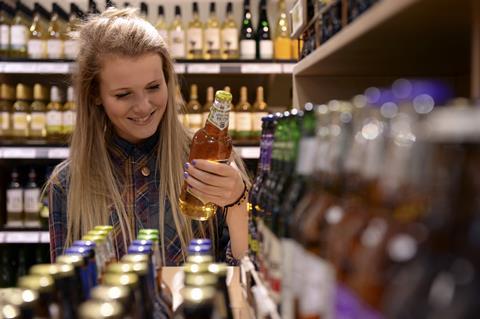 Tesco has given its beer range a significant makover, drafting in a slew of new brews.
The supermarket added some 70 new SKUs this week, with a major focus on its craft range.
New entrants include brews from Northern Monk, The London Beer Factory and Sierra Nevada.
It also marks the UK supermarket debut of cult 'gypsy' brewery Evil Twin. A duo of its beers – Wake Up and Smell The Gose (6.5% abv) and More or Less Evil Pale Ale (5%) – have rolled out.
They are being brewed for Evil Twin in the UK by BrewDog. A collaborative Nitro Stout created by the two brands also rolled into Tesco in early March.
A craft beer industry source told The Grocer Tesco was "keeping to its beer range review as normal. They feel if they postponed it then it would end up being another year before they were able to rejig the category", and it was "betting big" on BrewDog with the update.
The action wasn't limited to craft beers. St Austell's newly canned Proper Job IPA gained space, as did Stella Artois' new alcohol-free lager.
Meanwhile, many Molson Coors SKUs have disappeared from Tesco's shelves since the supplier scaled down its UK operations to stave off damage from the coronavirus crisis, Edge by Ascential data shows.
Coors Light, for instance, has dropped from seven to three SKUs. Pravha and Staropramen have completely disappeared. The brewing giant previously stressed cutting back its range was a necessity to protect its staff amid the crisis.
It said it recognised "consumers may miss some of our brands for what we hope will be a short period of time, but believe they will understand that protecting our employees by asking vulnerable groups to remain at home is our priority at the moment".
Its rival Heineken UK made notable gains: the Dutch brewer won nine new listings across Heineken 5% and 0.0%, Old Mout, Red Stripe and Strongbow [52 w/e 29 April 2019].
It comes on the back of a solid year for Tesco in beer and cider: the supermarket grew its value sales of the category by 4.8% in 2019 [Kantar 52 w/e 29 December 2019].
A Tesco spokesman said the supermarket was "excited to be launching an extensive range of new ales and craft beers" and had "worked with our expert breweries to bring new flavours, including a first to UK collaboration with US Brewer Evil Twin, that our customers can enjoy as we go through these challenging times."