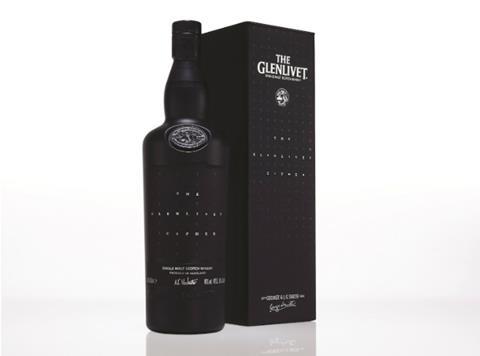 The Glenlivet has unveiled a 'mysterious' single malt Scotch whisky without cask information or tasting notes.

The Glenlivet Cipher is being rolled out across 25 countries worldwide now in limited quantities, with 1,200 bottles going on sale in the UK. It has been crafted from a 'unique cask combination' that has never before been used by the Pernod Ricard brand.

Presented in an opaque black bottle, the limited edition comes with a £100 price tag.

It had been designed to to present the "ultimate challenge' for single malt Scotch whisky drinkers, testing whisky fans' noses and palates against The Glenlivet master distiller Alan Winchester, said Magin Trewhella, marketing manager, Pernod Ricard UK.

"This is an incredibly exciting time for The Glenlivet following the successful launch of The Glenlivet Founder's Reserve, our new signature expression in the UK, while the launch of Cipher is further evidence of how the brand is constantly pushing the boundaries of innovation."

Pernod Ricard is supporting the launch with interactive digital activity designed to build engagement by providing support to decode the flavour profile.

The journey to decode the tasting notes begins on the label of the bottle, where the first clue appears with a prompt to visit the official The Glenlivet microsite.