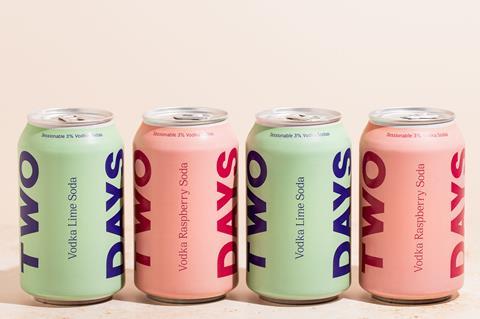 RTD startup Two Days is to debut this month with a duo of vodka soda RTDs.
It will launch two flavours of pre-mixed vodka soda (3% abv) into Whole Foods Market this month.
They are: Vodka Raspberry Soda and Vodka Lime Soda (rsp: £2.49/330ml).
The brand and products have been created for health-conscious shoppers looking for a drink that can be enjoyed without affecting the next day.
Co-founders Elise Marks and Brendan Bennett founded the business last year during lockdown, having struggled to find drinks that had a "moderate and sessionable" abv.
The drinks are made from a single measure of "five-times distilled British vodka", sparkling water and fruit extract. They are gluten-free, vegan and keto-friendly, said the brand.
"Moderation is on the rise, but most people do still drink alcohol on occasion," said Marks and Bennett. "Moderation means different things to different people and we didn't want it to be a choice of all or nothing."
The brand is backed by SFC Capital and raised £185k in seed funding prior to securing its first listing. It has also partnered with two strategic distributors to help accelerate growth.