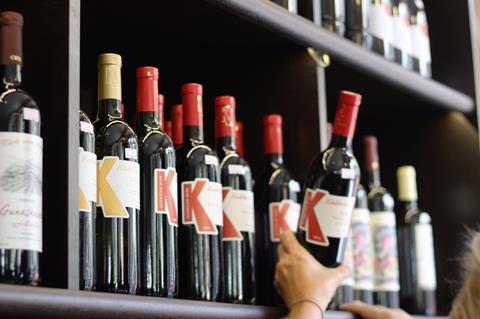 What is the magic number for a bottle of wine? Is it really £5?
While there is strong growth at the more premium end for wine priced from £7 to £9, new figures released last month by Kantar showed two-thirds of wine drinkers struggle to get past a "psychological £5 price barrier" when buying wine. Which is a concern when the average price of a bottle of wine has now hit £5.83.
The impacts of Brexit and falling consumer confidence are likely to lead to a drop-off in consumer spending. Of course, a retailer's mission is to deliver better value for their customers. Unfortunately, that gets harder each year in wine. Yes, most suppliers across fmcg have issues with costs. But in the wine industry there is a more profound problem to tackle: excise duty.
In real terms, 61% of a £5 bottle of wine is tax, of which £2.23 is excise duty. This means that, on average, 50p in every pound spent on wine at this price point is tax. So, after margin, taxes, costs, logistics and packaging, only 30p is left for the liquid in the bottle. (Besides everything else it's a clear demonstration that every pound spent above £5 largely goes into the quality of the wine.)
As costs are squeezed we are seeing an impact on sales. Kantar research shows the proportion of UK households buying wine has dropped from 71% to 68% since the start of 2017.
A healthy wine sector is a vital cog in retail – it drives footfall and attracts consumers. Retailers want great £5 wines to offer their customers, as well as more premium choices. As suppliers, we want to work closely with retailers to deliver the very best wines we can at price points that attract a range of consumers.
But the government's attitude to the UK wine industry – wine brands, suppliers, retailers and all who operate the supply chain – is strangling the industry. This is why earlier this year, a group of producers, consumers, suppliers, retailers and journalists formed a new organisation: Wine Drinkers UK. Together we are looking to build the profile of the wine industry in the UK with the clear objective of getting a fairer deal on taxation for wine.
A poll of over 2,000 consumers carried out by YouGov back in the summer revealed wine is now the most popular alcoholic drink in the UK. The poll showed that among adults who drank alcohol in the past 12 months, wine was drunk by 81% of people, beating both beer (79%) and spirits (79%). This equates to more than 33 million wine drinkers in the UK today.
And yet this most popular drink appears to have been treated as a cash cow by the Treasury over the past decade. Since 2010, duty on wine has increased by 39% – compared with just 16% for beer and 27% for cider and spirits over the same period.
The last Chancellor to cut still wine duty was Nigel Lawson, 35 years ago in 1984. Who could have believed how much the wine industry would have changed between then and now? The democratisation of the wine market has been remarkable – and in the main driven by the support, passion and creativity of grocery and impulse retailers. But the relentless pressure of excise duty is putting huge pressure on those who are supplying the very people you have helped bring into the category.
Please go to winedrinkersuk.co.uk – join us, talk to us and hopefully you will want to support us. We are all in this together.