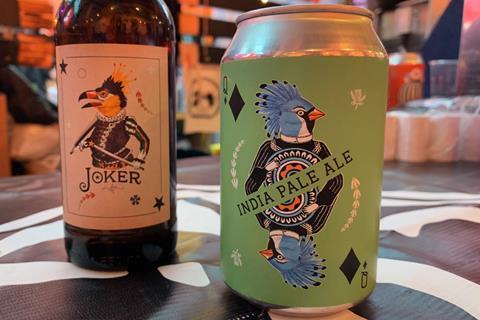 East London craft brewery Wild Card is to launch a duo of new brews into Tesco, building on the major deal it signed with the supermarket last year, The Grocer has learned.
The brand is readying two new 'special' beers in 440ml cans – a 4.6% abv cherry gose beer, and a 7.5% 'juicy' dry-hopped IPA – for launch with the retailer's beer range review next month.
It is also pouring two of its core beers, King of Hearts blonde beer (4.5% abv) and Queen of Diamonds IPA (5%), which debuted in Tesco in 2018, into 330ml cans with rebranded packaging and has installed a new canning line at its Walthamstow base.
"We are modernising our branding and we are busy filling thousands and thousands of cans," said Wild Card director Andrew Birkby. "We are really proud of how far we've come considering we started the business with a personal credit card about five years ago. The supermarkets have realised people are looking for more exciting beers now."
Over that five years, production had increased "exponentially", he said, with it currently producing 18,000 litres per week.
While the brand's focus would largely be "on getting it right with Tesco" for 2019, it was "also producing about two different special beers a month which are going into big cans and kegs", he said.
"We're looking to really push the envelope – they will be mainly going to independent bottle shops."
Wild Card would scale back its wider core range from five to three brews to aid its focus on NPD, he added, ditching its Jack of Clubs ruby ale and Ace of Spades porter. Its lager, Joker, will remain but be renamed Jack Lager.
Wild Card head brewer, Jaega Wise, was named one of The Grocer's most influential people in alcohol last year.

Daniel is The Grocer's food and drink editor and is responsible for our product coverage across all fmcg categories.

Daniel has written about food and drink for the majority of his career: prior to joining The Grocer in 2017, he covered food and drink news on pub industry title The Morning Advertiser, and wrote features for VICE magazine.

Follow Daniel on Twitter: @WoolfsonExists