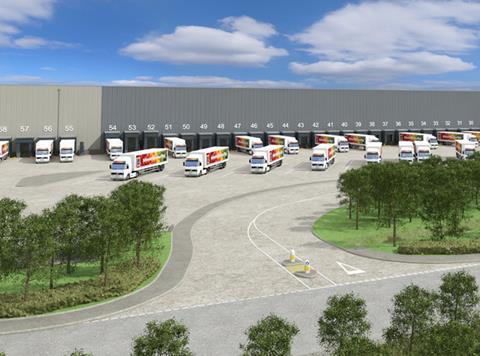 The discounters have unveiled plans to create 1,000 new jobs between them today.
Aldi claims it can create 500 new jobs in Wales, spread across ten new stores once it opens its new 430,000 sq ft distribution centre and offices near Cardiff.
Lidl is also pledging to create up to 500 jobs in the UK, thanks to a new 450,000 sq ft distribution centre planned near junction 9 of the M6, in Wednesbury, Sandwell.
Lidl has said it will create managerial, office based jobs and warehouse roles. This new site is also set to facilitate Lidl's growth through the region.
Councilor Darren Cooper, leader of Sandwell Council, said: "This will have a significant positive economic impact. We will be working closely with Lidl on recruitment to secure these jobs for local people."
Lidl UK director Ingo Fischer said: "The new Lidl warehouse will help service our stores in the West Midlands region as our expansion across the UK continues."
Meanwhile Aldi first announced its plans for its new site in Wales last year. With building work now underway, the retailer has confirmed that this development could pave the way for ten extra stores, generating hundreds of new jobs over the next five years. The roles available will vary from graduate level to senior management and operational roles.
The Welsh Government is ploughing £4.5m funding into the new Aldi centre and offices in Wentloog, whilst Aldi is investing £59.5million. The new site will open in early 2017.
"Support from the Welsh Government is not only helping to create more than 400 jobs," said Economy minister Edwina Hart said. "It is also opening up wider supply chain opportunities for food and beverage suppliers and indirectly supporting jobs in the construction sector.
"The new centre will offer a wide range of employment opportunities for people in Cardiff, neighbouring areas and the South Wales Valleys."
An Aldi spokesperson said the new centre underpinned Aldi's commitment to Wales. "We are pleased to be able to offer more people the chance to shop at Aldi and benefit from our everyday low prices and high quality products," they added.