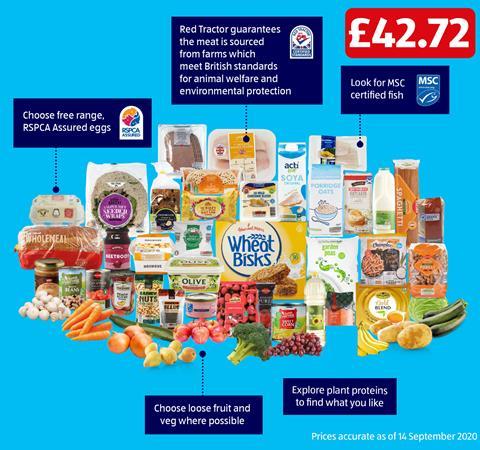 Aldi has come up with a "healthy shopping basket" of 49 products for under £45 in partnership with the British Dietetic Association.
The intention is a "healthy, sustainable basket of popular foods, with a further emphasis on being affordable", according to the BDA.
The move comes with retailers and suppliers under pressure to do more to tackle obesity. The government's latest obesity strategy, published in July, proposes banning products high in fat, sugar or salt from getting prominent positioning in stores.
The BDA said its own "insight work" suggested the pandemic had also changed the way the public prioritised health and sustainability.
According to the association, Aldi's basket meets proportions set in the NHS Eatwell Guide while also selecting items in the most popular categories as defined by the Office for National Statistics.
At £42.72, it includes meat, fish and both fresh and tinned fruit & veg, as well as olive spread, two types of cheeses, eggs, milk, bread, pasta, rice and tea bags. Absent are sugary cereals and drinks, while it does contain porridge oats, crumpets and malt loaf.
Overall, it contains five times more plant protein than found in the average UK diet, according to Aldi and the BDA.
The basket, publicised on a new Aldi web page, shifts shoppers towards greater intakes of fruits and vegetables, wholegrain and dairy-free alternatives, such as soya drinks, the discounter said.
The supermarket is also working with the BDA on a report for dieticians on the "small changes people can make to ensure their shopping baskets are healthier and more sustainable".
The discounter said it was part of its wider efforts to help its customers be healthier and more sustainable.
A new BDA web page on the project said it "looks at an approach to modelling a healthy, sustainable basket of popular foods, with a further emphasis on being affordable".
"We have blended these with pragmatic choices of familiar foods which are appealing to many shoppers," it said. "The basket and supporting communications convey the many simple steps towards diets that are nutritionally and environmentally 'better' without costing more.
"The main themes are increases in plant-protein foods without increasing protein overall, greater intakes in fruits and vegetables (compared to current typical consumption levels), greater intakes of wholegrain versus white/refined starchy foods, and reductions in foods high in sugars and salt."
Here's what's in the basket:
4 loose bananas
Nature's Pick small royal gala apples, 6
Nature's Pick mini pears, 5
Bunch red grapes (500g)
Four Seasons Raspberries (frozen), 350g
Four Seasons Peach slices in juice, 410g
Carrots – 500g (7-8 carrots)
Onions – 3 medium white
Broccoli (whole head)
White cabbage (small)
Courgettes (3 medium)
White button mushrooms
Cucumber (medium)
Four Seasons tinned Sweetcorn, 340g
Everyday Essentials tinned chopped, tomatoes, 400g
Cucina concentrated Tomato puree, 200g
Everyday Essentials Garden Peas, (frozen), 907g
Bramwells Baby Beetroot, 440g
Village Bakery soft, thick sliced wholemeal Bread, 800g
Village Bakery Super Soft Seeded Wraps, 450g (8 wraps)
Foodie Market cheese & pumpkin Crispbreads, 150g
Savour Bakes rough Oatcakes, 250g
Worldwide wholegrain rice, 1kg
Harvest Morn wheat bisks, 684g (36)
Everyday Essentials Porridge oats, 1kg
Village Bakery crumpets, 6 pack
Village Bakery malt loaf
Cucina Fusilli, 500g
Cucina Wholewheat spaghetti, 500g
Nature's Pick White baking potatoes, 4
Champion Sweet potato fries, 500g (frozen)
Cowbelle semi-skimmed milk, 2 pts
Actileaf soya drink (1l, sweetened)
Everyday Essentials Mild Cheddar Cheese slices, 200g
Everyday Essentials Mozzarella, 200g
Specially Selected roast beef topside slices, 130g
Ashfield Farm chicken breasts, 300g
The Fishmonger Canned pink salmon, 213g
The Fishmonger Fresh Cod Fillets, 250g
Merevale free range eggs, 6
Four Seasons tinned mixed beans, 400g
Highland Kitchen Red Split Lentils, 500g
The Deli Reduced fat Houmous, 200g
The Foodie Market crunchy Peanut butter, 280g
Foodie Market Cashews, 200g
Foodie Market Pumpkin seeds, 250g
Green Vale Olive spread, 500g
Solestra Sunflower oil, 1l
Diplomat gold blend tea bags, 80