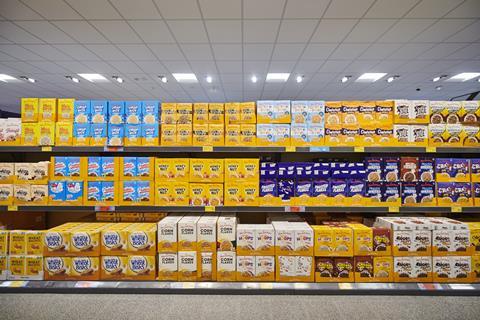 Aldi is introducing 100% recyclable packaging for own-label boxed cereal.
The discounter is to replace plastic inner cereal bags with a recyclable alternative by the end of the year, saving a claimed 650 tonnes of non-recyclable plastic annually.
It's part of Aldi's drive to make all own-brand packaging recyclable, compostable or reusable by the end of 2022, and for branded packaging to be the same by 2025.
"We've set ambitious targets to reduce our environmental impact and will continue to step up our efforts to achieve them," said Aldi plastics and packaging director Chris McKenry.
"This change to our cereal range is just one of a number of initiatives we have in the pipeline that will help us to reach our goal of all packaging, including branded products, being recyclable, compostable or reusable in the next five years."
In February this year, Aldi UK and Ireland CEO Giles Hurley wrote to suppliers urging them to get on board with the targets and warning future buying decisions would be based on their ability to keep up.