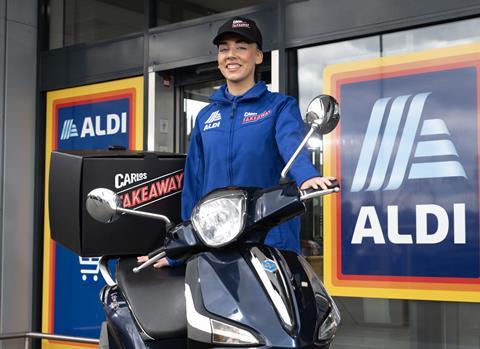 Aldi has launched a pizza delivery service, offering a new takeaway-inspired range brought hot to customers' doors, at no extra charge.
The new Ultimate Takeaway range, which Aldi says is inspired by pizza delivery chain Domino's, consists of three options: The Meaty One, featuring pork meatballs, sausage and pepperoni; The Banger, with toppings including chorizo; and Takeaway Texas Style BBQ Chicken & Bacon. All are in size medium, or 11.5 inches, and cost £3.99 each.
Customers can book a scheduled delivery of up to two of the pizzas on a dedicated new website at aldipizzadelivery.co.uk. The service launches from 3 October, with delivery slots available in advance now. It comes with no delivery charge, meaning the pizzas cost the same as in Aldi stores.
The service is available to selected postcode areas in Manchester, Cardiff and Edinburgh, to coincide with university freshers' weeks. It is understood it will only be available in the short term, to promote the new pizza range as a cheaper alternative to Domino's. The website warns: "Limited numbers available. Once they're gone, they're gone!"
It is understood a third party will heat and deliver the pizzas, though Aldi has not named the provider.
The new range is also available in Aldi stores nationwide from 9 October.
"With prices of takeaways soaring, we're excited to be able to offer shoppers delicious pizzas at a fraction of the price of expensive high-street chains," said Aldi UK buying MD Julie Ashfield.
"The quality ingredients and affordable price of the Ultimate Takeaway range will no doubt change people's idea of the supermarket pizza.
"Better yet, we're thrilled to be able to deliver this product hot to shoppers' doors and truly treat our customers to the full takeaway experience."
The short-term pizza delivery exercise follows Aldi scaling back or axing other, longer-term online services, including click & collect grocery shopping, which it launched during lockdown in 2020. The service reached about 200 stores, but was axed in 12 earlier this year.
Commenting as Aldi opened its 1,000th UK store earlier this month, the discounter's UK & Ireland CEO Giles Hurley said: "During the pandemic, it was very clear that customers wanted to be served in a different channel."
However, online's share of the grocery market had "reduced significantly" since then, he said.
"We will listen to customers and serve them in the channels where they want to be and right now that's bricks & mortar," he added.
From January this year, Aldi also wound down its home delivery service of general merchandise 'SpecialBuys' and wines & spirits, saying it wanted to focus on low prices and estate expansion.
In 2022, Aldi axed an on-demand grocery delivery partnership with Deliveroo as shoppers began returning to stores more in the wake of the pandemic.
Asda has offered a hot pizza delivery service since 2018, in partnership with Just Eat.