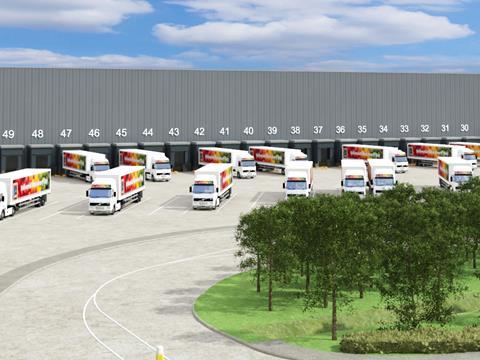 Aldi has put forward plans for a major new distribution centre in the south east.

The proposed new 950,000 sq ft facility, in Bedford, would become the discounter's 12th in the UK and support 400 jobs, it said.

A planning application has been submitted following discussions with Bedford Borough Council and developers Gallagher Estates.

If it goes ahead, the £75m development will serve Aldi's growing network of stores across Bedfordshire, Buckinghamshire and Hertfordshire.

Last year, Aldi invested more than £450m of capital expenditure in opening new stores and improving its distribution centres in the UK and Ireland.

It said its total investment over the past five years was £2bn, with new distribution centres in Sheppey, Kent and Sawley, Derbyshire are also under development.

Aldi also pointed to recent research showing it will support 205,000 direct and indirect jobs by 2022.

The discounter recently announced record sales of £8.7bn and said several of its biggest-selling stores, such as Bishop's Stortford, Hertfordshire and Guildford, Surrey were in the south east.

Aldi UK and Ireland CEO Matthew Barnes said: "More than half of all UK households now regularly shop with us and many more prospective customers tell us they would switch supermarkets if there was an Aldi nearby. This gives us the confidence to continue investing in our operations and infrastructure.

"Our plans are more significant when viewed against the changes taking place in the UK grocery market. "At a time when many of our competitors are scaling back, we continue to scale up our operations across the country."

Research by the Centre for Economics and Business Research published earlier this month showed that Aldi supported 146,000 direct and indirect jobs in the UK last year, a figure expected to rise to 205,000 by 2022.