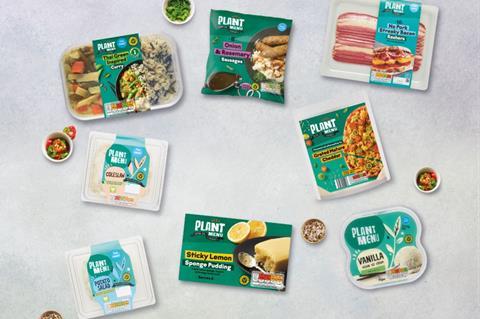 Aldi plant-based food sales were 500% higher this January than last as more shoppers got on board with Veganuary.
The discounter has also reported a 250% increase in plant-based sales in 2021 compared with 2020.
It said it expected more growth this year, having expanded its plant-based range for Veganuary by 50% in response to demand.
The range spans frozen, ready meals, bakery and confectionery, including Aldi's Plant Menu line-up, featuring products such as Spicy No Chicken Burger and No Pork Streaky Bacon. Aldi said its Plant Menu Vegan Blondies and Brownies had proved particularly popular this Veganuary.
"Veganuary is getting bigger and bigger each year as the UK's appetite and interest in plant-based food grows," said Julie Ashfield, Aldi MD of buying.
"In response to that demand we're continuing to expand our vegan offering, giving our shoppers plenty of choice and all at great value.
"But it's also a trend that we're witnessing year-round and, as more and more people adopt this diet, we expect these products to remain popular throughout the year."
Midway through January, Veganuary campaign organisers said the annual event had already exceeded last year's total sign-ups of 580,000 people, with more than 600,000 consumers having attempted to follow a plant-based diet so far in 2022.
Pilgrim's Food Masters, owner of sausage brand Richmond, which offers a meat-free range, last week predicted the value of the plant-based category in the UK would grow by at least 74% to £1bn by 2026.