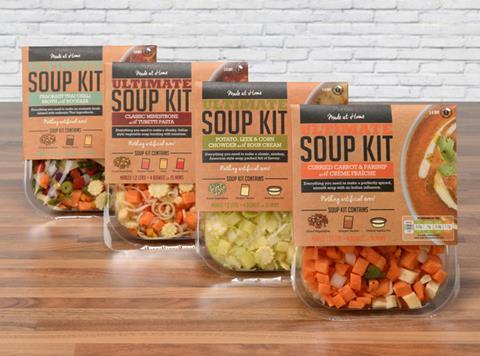 Gourmet food company Puréety is to launch a range of fresh soup kits into Aldi stores.
The four-strong Ultimate Soup Kit portfolio will be available from the discounter's stores across Scotland from October following a successful seven-day trial this month.
Rolling out under the company's Made at Home banner, each pack (rsp: £1.99) contains fresh diced vegetables and ingredients such as pasta and sour cream - everything needed to produce four portions of "restaurant-quality soup" at home in 15 minutes, said Puréety. The range comprises: Minestrone with Tubetti Pasta; Thai Chilli Broth with Noodles; Curried Carrot & Parsnip with Créme Fraiche; and Potato, Leek & Corn Chowder with Sour Cream.
Further Made at Home launches were planned for the next 12 months including pizza and meal kits, said Gareth Pearson, MD of the privately financed business.
"We want to target the middle ground between purchasing ingredients and ready meals, where the consumer can take ownership of the food they create at home, saving time and without all the hassle," he said.
Puréety developed the soups with Bryans Salads – which Pearson described as one of Aldi's core suppliers – and this relationship helped Puréety get a "food in the door" with the retailer.
"It is great that Aldi, which has always followed the food trends, is looking to be at the forefront of NPD and food innovation," said Pearson.
Lancashire-based Puréety currently sells own-label products, and Made at Home-branded marinades and potato seasonings, through Tesco, Asda, Booths, Lidl and Waitrose. The business is hoping to secure additional listings for its soup kits before the end of the year.