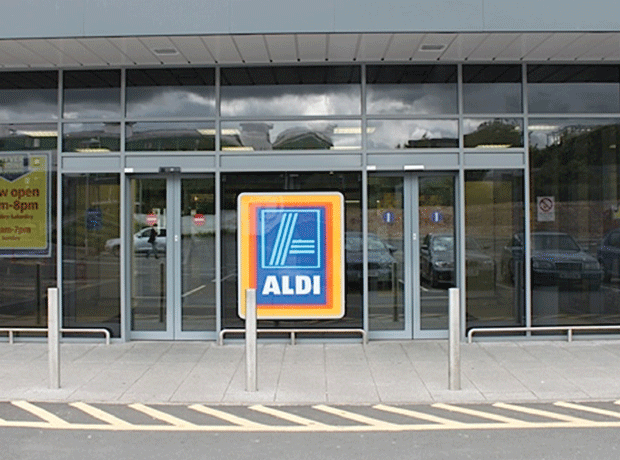 On 5 April 1990, Aldi opened its first store in the UK – in Stechford Lane, Birmingham.
The Grocer was there on opening day. We described the 2,000 sq ft store as "strip-lit and stark" and said "shoppers, mostly middle-aged, shared their surprise between prices and a plethora of obscure brands."
"There are limited frozen and chilled products, even more limited fruit and veg, but there is a strong presence of unknown 'exclusive' own labels," we added. "Exotic titles like Alio, Lorado, Asta, Olana, Tandil, Myra Klenz and Spinaca abound."
Fast forward 25 years and three days and from those humble beginnings Aldi has just overtaken Waitrose to become the UK's sixth biggest supermarket.
Kantar Worldpanel's latest grocery market share data released today for the 12 weeks to 29 March revealed Aldi's market share jumped from 4.6% a year ago to 5.3%. That was enough for it to leapfrog Waitrose, which recorded a market share of 5.1% for the 12-week period, versus 5% a year ago.
Kantar Worldpanel said Aldi's elevation to the number six spot was down to it recording double-digit sales growth for the past four years, over half a million new shoppers visiting it in the past year, and average basket size increasing 7%.
Aldi, and its hard discounter counterpart Lidl, have undoubtedly been the grocery successes of the economic downturn. But it hasn't just been about the economy. They have attracted shoppers through canny marketing, increasing their fresh and chilled ranges and opening more stores.
Aldi's ads aren't about price anymore, and you'd be forgiven for thinking they were a premium retailer. Over Easter, its ads included smoked salmon and gourmet desserts. Its Christmas ad featured shoppers sitting down to eat at tables groaning under luxury food.
In turn, this has meant their shoppers are more affluent. Last month, research consultancy Him! revealed shoppers from the highest AB demographic make up 31% of all shoppers at Aldi and Lidl – versus just 12% in 2013. And that 31% is more than any other demographic. The supposed stigma at shopping at a discounter has gone.
But Aldi is not having it all its own way. Though the big four would kill for the 16.8% sales growth it recorded in the 12 weeks to 29 March, that figure represents a slowdown for the discounter. It recorded sales growth of 19.3%, 21.2% and 22.6% respectively in the previous three months.
Waitrose will also not be able to blame itself for being overtaken by Aldi. It has performed consistently well for years and has boosted its appeal by the introduction of its Waitrose Essential range, as well as free tea, coffee and newspapers through its MyWaitrose loyalty card. Indeed, its 2.9% sales growth and its market share increase in the last 12 weeks were more than any of the big four managed to register.
Aldi will now have its sights set on The Co-operative Group, which according to Kantar Worldpanel saw its market share fall from 6.1% a year ago to 6% in the latest 12-week period. This is an entirely realistic goal, especially as The Co-op is selling off its larger supermarkets to become a pure c-store operator and has warned its market share will therefore head south.
The Co-op releases its full-year results for 2014 tomorrow. It recorded a £2.5bn loss in 2013 amid high-profile banking troubles. But it is already back in profit and expects debt to fall to about £1bn following a number of sell-offs during 2014, including its Pharmacy and Farms businesses.
But, with Aldi aiming for 1,000 stores by 2021, perhaps The Co-op is not an ambitious enough target for the discounter? Could it aim for Morrisons, currently on 10.9%, in the future? If its performance so far is anything to go by, it can't be ruled out.