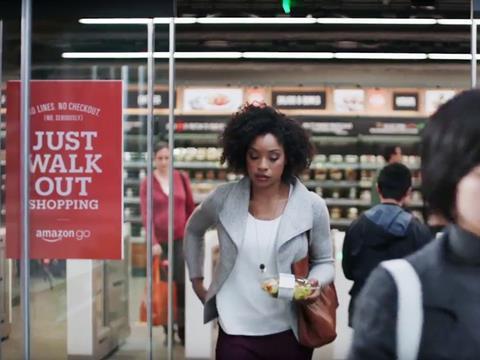 Amazon insists it is "just getting started" with its ambitious checkout-free convenience stores despite persistent rumours of technical problems.
Amazon has posted a job for an Amazon Go network engineer in the US, who will be responsible for the "building and rollout of our network across multiple sites" beyond its Seattle store.
"We need people who want to join an ambitious program that continues to push the state of the art in computer vision, machine learning, distributed systems and hardware design," it says.
The ideal candidate will have an extensive list of qualifications including 8 years or more of industry experience, a Bachelor's degree in engineering and CCIE Certification.
The ad suggests Amazon is unphased by reports of technical problems at its initial Amazon Go checkout-free store in Seattle, which is still not open to the public.

The high-tech convenience store was initially due to become fully operational in "early 2017", but the date has been pushed back as Amazon continues to test the technology among its employees.

According to a report by the Wall Street Journal in March, the store was struggling to keep track of more than 20 people at a time and had difficulty tracking an item that had been moved from its place on the shelf.

Once shoppers download the Amazon Go app, the technology should be able to track everything they take from the shelves and charge their Amazon account accordingly when they walk out.

When Amazon unveiled the technology last December, analysts largely reacted positively but some dismissed the concept as a marketing gimmick.

Brittain Ladd, former Amazon executive and a global strategy, digital, and operations consultant to leading grocery retailers, said the convenience stores were about far more than marketing.

"Amazon doesn't view bricks-and-mortar stores as a way to gain market share, it views them as a way to serve and delight more customers," he said. "Amazon places a lot of focus on understanding the needs of consumers and what it discovered is that most consumers wanted to be able to 'inspect and select' certain categories of food: meat, milk, eggs, fruits, vegetables, dairy and baked goods."

Ladd imagined Amazon Go stores could work in the UK on a small scale.

"The high density of grocery stores in the UK means building a large number of stores may not provide a material impact to the consumer," he said. "However, in regions where Amazon has identified a need for stores to better serve and delight consumers, it will assuredly open stores but do so in a strategic and surgical manner."