Street food is streets ahead, as far as Brits are concerned. Fresh from far flung holidays or international street food markets serving up Korean bulgogi and wild African game, the trend for tasty morsels on the go is finding its way into the nation's homes.

"Street food continues to gain momentum as it is quick to prepare, but delivers big, bold flavours," explains Yilmaz Erceyes, brand director for savoury meals at Premier Foods. "Cuisines such as Korean or Vietnamese lend themselves perfectly to this trend and we are seeing shoppers on the lookout for products that help them replicate the dishes at home that they are enjoying at their favourite restaurants."
Choice has exploded in American cuisine. It is the third most popular cuisine on UK menus
So, how are retailers and brands embracing this trend? Which cuisines are benefiting? And what could Brexit mean for a sector that relies so heavily on its ties with the rest of the world?
M&S has, arguably, made the biggest play for the market having sent its food team to scour street food stalls, restaurants and pop-up stores across Central and South America. The result was 490 new SKUs launched in May inspired by the region, including Louisiana and Creole chicken spatchies for grilling on the BBQ, Chilloumi cheese kebabs and salmon skewers with lime, chilli and mint.

"When it comes to American cuisine, choice has exploded and it is now the third most popular cuisine on UK menus [Menurama]," says Amoy brand manager Martina Davis.

It's also experiencing growth in the ready meal aisles with an increase of 13.4% over the past year [Kantar Worldpanel 52 w/e 14 August 2016]. "There's been huge growth in Americana products in retail over the past two years, mirroring the restaurant and street food sectors," says Nathan McGivern, insights manager at The Flava People, which manufacturers Meat Lust sauces.Shoppers can expect to see this trend filter down to supermarket shelves in coming months, with Kraft macaroni & cheese microwaveable wet pot and Homepride's All American maple cooking sauce two early innovations looking to capitalise.
Pop-up gallery: Innovations in World Cuisine
However, American cuisine still only represents a tiny part of the chilled ready meal category. Classic English fare accounts for nearly 40% of the category and contributed an additional £26.5m. Italian followed with £23m growth, with Chinese chilled ready meals third adding £5.7m to the category. Only Indian and Oriental are in decline.

Crucially, though, consumers are willing to spend more for this touch of the exotic. Average prices crept up 0.9% in the last 12 months, compared with growth of just 0.04% the year before that, with Spanish (up 3.1%) and Italian (up 2.0%) driving an incremental price rise across the chilled meals category.
Emerging cuisines
"Growth in long haul travel and in particular the trend of culinary tourism at home and abroad continue to drive the demand for new exotic world foods," says Faizal Fulat, buying director at Asian food importer Chadha Oriental.

An increasingly diverse UK population is also driving sales in the world food aisle with ethnic minorities now making up 14% of all shoppers, and second-generation immigrants generating a move back into the multiples for international ingredients.

"There was a huge influx of Indians in the 1970s and that generation used to shop in traditional Asian stores," says Anna Beheshti, head of mainstream marketing at Tilda. "Their children and grandchildren are now assimilated and moving to the big multiples, and with the younger generation that is only going to increase further."

But a better travelled, more educated consumer also swapped old favourites to experiment with new culinary options.
There's been an increase in products containing traditionally more expensive ingredients
This follows a far longer-term trend toward emerging cuisines, believes Sarah Bullamore, shopper marketing manager at General Mills, manufacturer of Old El Paso.

"While Italian, Chinese and Indian food have all seen a decline in the last two years, other cuisines are coming forward to fill the gap," she says. "Retailers are giving more shelf space to emerging sectors, such as Thai, Japanese, Korean and Vietnamese. Mexican is also a category that has gone from strength to strength in the home market and this will only continue to expand as retailers dedicate more space to support this key driver of growth."

Despite emerging cuisines enjoying a growing market share in the UK, shoppers will keep returning to cuisines and brands they know and trust. "Shoppers will try new products from cuisines they are already familiar with, such as Italian and Indian," adds Premier Foods' Erceyes. "People have been enjoying these for years and, combined, the cuisines have a 42% share of the world foods market, but it is important we continue to innovate to keep loyal shoppers interested."

One way to do that is with more premium options, following in the footsteps of posh ready meals manufacturer Charlie Bigham's. The brand sells its luxury meals for two at up to £8, with Moroccan tagine (£6.49), Thai green curry (£6.49) and paella (£8) among its hugely popular range, with listings in Waitrose, Sainsbury's, Tesco, Ocado, Booths and Budgens, and a new ready-to-eat format in Costa's London concept store Costa Fresco in March. Sales of the chilled range were up 52% on volumes up 54.4% [Nielsen MAT 52 w/e 10 September 2016].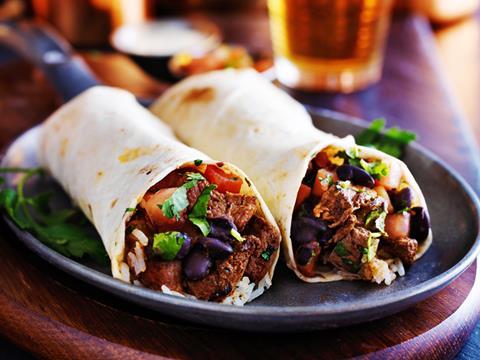 World cuisine category snapshot 2016
Out-of-home food trends often inspire innovation in chilled ready meal ranges in supermarkets, so manufacturers should take note of emerging restaurant trends.
Marks & Spencer is the sector's largest retailer. Its Gastropub range – comprising dishes such as cottage pie and moussaka – has been a key growth driver supported by 3 for £10 deals, and has helped fuel the rise in English and Greek cuisines.
Marks & Spencer launched the Taste range in 2014, with a focus on Asian and Mexican dishes. Last September the range was expanded to include Mediterranean meals such as paella and patatas bravas.
Tesco and the Co-op have also grown through their premium own-label ranges. The trend towards premiumisation is further supported by the performance of premium brand Charlie Bigham's.
In April, Morrisons released new products focused on world flavours, which are now worth £2m.
The premium Waitrose 1 range, which includes beef & chorizo chilli and roasted mushroom risotto, has now replaced Waitrose Menu.
Rebecca Henry/Kantar Worldpanel
Premium and provenance
Brand and own-label SKUs highlighting provenance and premium ingredients are convincing consumers to shell out far more, believes Jeremy Faulkner, managing director at own-label supplier SK Foods.

"There's been an increase in products containing traditionally more expensive ingredients, for example duck, lamb, king prawn, and recipes considered to have premium cooking techniques, for example slow roasted, in a rich reduction, and so forth," he says. "Provenance is king as consumers seek to understand where their food comes from, for example handmade or authentically spiced."

NPD offering up convenient consumption options for world food will also appeal to consumers, according to Umme Ali, assistant brand manager at Heinz. It launched a Heinz Creationz collection in July featuring four SKUs providing "timesaving meal solutions that can be cooked in a matter of minutes".

And meal kits or ingredients that facilitate scratch cooking remain in demand as consumers seek to whip up international dishes at home or create authentic versions of their favourite dish.
More authentic brands are being purchased as consumer confidence in their cooking increases
Two-thirds of Brits value authenticity, according to research by Lee Kum Kee, with young school leavers or graduates fresh from gap years leading demand for the real deal.

"Scratch cooking has continued to grow in popularity and has contributed to the decline in ready meals," says Bullamore. "Alongside those consumers who cook from scratch, many are looking for permissible shortcuts that enable them to save time while still feeling like they're cooking from scratch. This is why kits are so important to the consumer, and General Mills, in recognition of this, continues to devote NPD to further develop product launches in this area."
A broader range of exotic spices
The availability of more unusual ingredients across the mults results from this increasing consumer interest in scratch cooking, with Sainsbury's including Middle Eastern sumac spice and North African ras el hanout seasoning when it overhauled its own-label spices, herbs and seasoning in June as part of a move to "offer a broader range of exotic spices, inspired by flavours and ingredients from around the world".

"Where once cuisines might have been grouped as more general Middle Eastern, Caribbean, and Indian, consumers are now open to more distinct, unusual flavours with exotic sounding names," says Tasneem Backhouse, MD at own-label supplier EHL ingredients. "Ras el hanout and harissa are examples of spice blends that have gone from being relatively unknown in the UK to spice cupboard staples, and we're expecting a similar pattern of availability and demand for seasonings such as zhug (Yemen), mimita (Ethiopia) and bezar (United Arab Emirates)."

One of the biggest factors behind this scratch cooking trend is a growing awareness of health, explains Maria Chong, managing director at Lee Kum Kee. With dripping fat and lashings of salt and sugar dogging media reports of the takeaway dishes much associated with many international cuisines, "consumers have been encouraged to cook their own food to ensure the freshness and quality of ingredients".

This has been encouraging producers and retailers to look at reformulation of their ranges, adds McGivern. "Sugar reduction is a clear trend that's going to emerge in the next 12 months, as well as more natural alternatives to sodium."
The Olympics meant consumers were presented with South American trends
And with 62% of the adult population now overweight, healthier alternatives offering gluten-free and whole wheat ingredients will all fuel NPD in the coming year.

Retailers are capitalising on these trends with own-label and branded ranges. After all, own label is often the "entry point" for consumers experimenting with new tastes and flavours, points out Fulat, with supermarket own-label chilled ready meal ranges accounting for a huge 94% of the category [Kantar]. These "lead to more authentic brands being purchased as confidence and experimentation in consumers' own cooking increases".

In the chilled meals category M&S leads the way with the biggest share at 26% and a value increase of 3.8% year on year - ahead of total growth across all retailers.

In September new oriental flavours were added to its Taste range too, with roast duck ramen, boneless beef ribs rendang and its version of a Korean bibimbap.

"With Korean cuisine emerging as a trend, the new chilli chicken rice is our version of a bibimbap with a punchy chilli sauce to stir through," said the retailer.

Efforts at its competitors are more piecemeal, with Waitrose incrementally adding world food-inspired dishes to its new Waitrose 1 premium tier, and Morrisons revealing new world flavours across its chilled meals range in April.
Growth for Aldi and Lidl
Discounters Aldi and Lidl continue to grow rapidly with value sales in chilled meals of 24.5% and 19.7% respectively. Only last month Lidl marked Italian Week with promotions across its Italiamo own-label range, which now includes more than 300 SKUs after its 2014 launch.

This is creating extra pressure for the big four, said one senior manufacturer. "There is a significant channel shift as the discounters grow share in this segment and continue to convert world foods into their shoppers' baskets at a higher rate than traditional grocery, driven by their focus on ambient grocery and continued investment in Italian or Mexican events."

These more contrived promotional events aside, all retailers are increasingly aware of the benefits in tailoring both products and promotions around major religious and cultural festivals such as Ramadan, Diwali and Chinese new year.

"We see products promoted as early as 12 weeks before key festival to maximise that sales spike, which is a change," says Beheshti, who adds a third of the annual volume sales in large bags of rice comes from sales around these festivals.

The same uptick can arise from major sporting events. "The Olympics have caused a huge media frenzy over the past year and consumers were consistently faced with insights and cultural trends from South America," says Santa Maria marketing manager Julia Mallaby Rossler. "As a result of this, consumers were looking to recreate more South American dishes in their own home and brands can adapt their offering to maximise sales."
Brexit
Yet for all this evidence of Brits embracing far-flung cuisines and cultures, 52% voted to exit the EU in June, a decision that has sent the value of the pound plunging and the cost of imports up. As a result "world foods is one of the categories that has been hit hard" says Jag Sing, marketing manager at Tropical Sun Foods, due to its high reliance on imported ingredients.

And once Article 50 is triggered and the renegotiation of trade agreements begins, Defra has warned imported food prices could ultimately rise by 11% as a result of the introduction of new tariffs.
"There's a lot of uncertainty and that's never good in our business," says Beheshti. "With the pound dropping so much in value for imported products, this causes some issues on costings and pricings. There is a question mark on who absorbs that, and how we can manage that as a sector going forward."

Cutthroat negotiations, the likes of which led to Tesco's pricing spat with Unilever last month, could be the result for both own-label suppliers and brands in the world foods category, warns Harry Dulai, managing director at Surya Foods. "With significant falls in the value of the pound, suppliers can only stretch so far to absorb the differences. Eventually this will simply have to trickle through," he says.

Ultimately this new breed of more adventurous, more experimental consumers may end up having to dig a little deeper for their world foods fix.