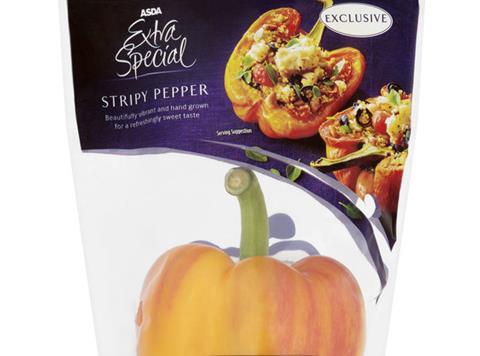 Asda claims to have launched the world's first multi-coloured striped pepper – and says it's healthier and sweeter than traditional bell varieties.
The Asda Extra Special stripy pepper, a combination of yellow and red bell varieties, went on sale today (8 June) in stores nationwide (rsp: £1).
The retailer says the striped pepper contains more vitamin C than an orange – because it has been specially developed to absorb less fertilisers and water, so it can absorb more nutrients.
A prolonged growth period means it is also sweeter than standard bell peppers and packed full of "nutrient-rich" sprouts and bulbs, Asda said.
The striped pepper has been developed over the past seven years by Netherlands-based nursery 4evergreen. It began as a natural mutation of the pepper, which the farm set out to cultivate into a "super pepper" after noticing "distinct differences" in its flavor and nutrient profile.
Asda fresh produce manager Charlie Mills said: "We take great pride in being the only supermarket to stock striped peppers. After working with the grower for seven years to cultivate this unique product, it's great to see them finally hit shelves."