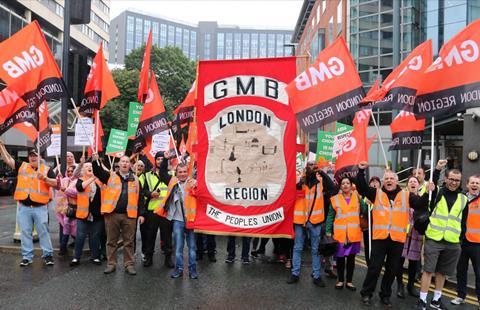 Asda may not make use of a controversial new contract clause allowing it to change staff hours at four weeks' notice, the supermarket has claimed.

The clause is at the heart of the row over the contract, in which up to 300 workers face the sack if they do not sign by the new deadline of 10 November.

A GMB Union spokesman claimed Asda could face a "flood" of unfair or constructive dismissal claims from workers unable to agree to the new terms. "Some of our members have husbands with cancer or their kids are severely disabled," he said. "They have six hours' care a week and that's when they do their Asda shift. Saying they need to be available any time is in effect dismissing them and those people would have a constructive dismissal case."

GMB lawyers also believed such workers who had signed the contract could argue they were a victim of indirect discrimination if a shift change had a disproportionate effect on them, the spokesman added.
Asda claimed in response that GMB's argument was hypothetical since there was nothing to suggest staff in such circumstances would be asked to work hours they were unable to. The supermarket said it remained aware of its legal obligations and would not ask staff to work shifts it was clear they could not, despite the new clause.
The company claims to have been clear throughout the process that it understands people have responsibilities outside work and will always help them to balance those commitments with work. "We will not be asking them to constantly move the time they work, their days or departments," a spokesman added.

The new contract raises the lowest store wage rate from £8.21 to £9, with a further rise to £9.18 from April next year. It also scraps paid breaks, leading GMB to claim that many staff will be worse off over a shift.

In addition to their hours, Asda can change a worker's department at four weeks' notice under the new terms.

Store workers refusing to sign were due to be sacked on Saturday (3 November), but hours before the deadline Asda gave them a week longer. They now have until 10 November to "reflect on their decision to leave", Asda supermarkets VP Steve Shirley said in a letter to the GMB Union.

The GMB spokesman said the only way for Asda to avoid the threat of legal action was by removing the clause enabling hours to be changed.

"The next stage for us is to wait for the deadline to pass, find out how many of our members have left and then take legal action on behalf of those where appropriate," he said.

"We will put a shout to all members affected by this and say if you feel you've got a [claim], come forward. There will probably be a flood next week and then dribs and drabs."

An Asda spokesman said: "Following an extensive consultation period, we're pleased that almost 120,000 of our retail colleagues are now working on the same contract, with the same terms and conditions and the same enhanced benefits package, including an increased hourly rate. This contract is about fairness for all our colleagues and moves us in line with our competitors.

"Whilst retail as a whole is under continued pressure, we will do all we can to ensure we have a sustainable business for our customers, our colleagues and the communities we serve. We have been clear that we do not want anyone to leave us as a result of this necessary change and so we have written to the fewer than 300 colleagues who have not signed the contract to offer a little more time to sign up and continue to work with us, should they wish."