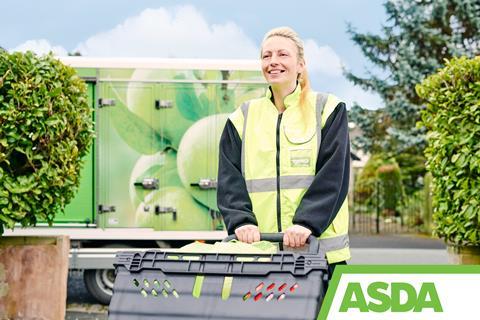 Asda could become the latest retailer to launch a service in which delivery drivers will replenish customers' fridges, even when they are not at home.

After referencing parent company Walmart's InHome service - which launched in three US cities in October - Asda's senior director of online grocery Emma Seal told a conference audience last week to "watch this space in 2020 about where we can take that forward".

"We're not just looking at when customers want it delivered, we're also looking at how," Seal said at IGD Live in London on 7 November.

Subscribed Walmart InHome users buy a subsidised smart lock device which is installed for free on their front door or garage door. When making a delivery, the Walmart associate uses a one-time code which opens the smart lock to give them access to the customer's home. Delivery associates wear a body-cam which live streams their movements inside the property to the customer's device.

InHome users pay a monthly subscription fee and pay no extra for deliveries, but there is a modest minimum order size.

"We are working really closely with Walmart on those kind of innovations," Seal said.

Waitrose is currently trialling a similar service - While You're Away - which launched in October last year. The supermarket is now seeking more customers in South London to sign up for a six-month trial.

Amazon launched a similar service - Amazon Key - involving a smart lock in the US in 2017, to allow delivery drivers to leave packages just inside the customer's door.

Speaking about Asda's innovation efforts more broadly, Phil Wilkinson, the company's senior director of e-commerce trading, said the most exciting area was "growth where customers care".

"That's very much about how we leverage technology and innovation working with our Walmart partners and with our supplier partners to create new solutions for our customers.It's the things that excite our customers and make Asda more sticky," he said.