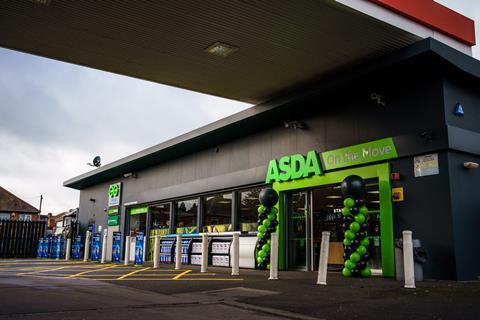 Asda appears to be moving closer towards opening a standalone convenience offer as it ramps up recruitment for new roles across its wholesale and convenience division.
The supermarket has recently posted two new job adverts for property acquisition managers that aim to "spearhead our plans to develop a convenience chain, a new format for the business".
Key responsibilities include "pro-actively sourcing new acquisition opportunities across multiple formats", while "working closely with the in-house town planning team to secure appropriate planning and regulatory consents are in place".
The closing date for these vacancies is 30 June.
Asda, which is owned by EG Group founders Mohsin and Zuber Issa and TDR Capital, is also recruiting for two new senior managers who would "significantly contribute to Asda's growth ambitions".
One of the roles would look after its convenience proposition, whereby the elected candidate would be responsible for "shaping and developing Asda's convenience brand and customer position that underpins the convenience and wholesale strategy".
The other senior manager role is for its retail channel operations, who would "own the retail execution of convenience into Asda".
Another job advert for a store manager role, which closed this week, said it would assist Asda's ambitions in opening "hundreds more stores over the next couple of years".
The Sunday Times reported in March that the billionaire Issa brothers had a long-term ambition of opening an Asda convenience chain. The proposition would work alongside its existing wholesale agreement to supply 'Asda on the Move' stores on EG Group forecourts.
There are currently 35 Asda On the Move stores across the UK. Asda said in its quarter-two trading update last year it had a target of opening 200 by the end of 2022.
An Asda spokeswoman said: "A core part of our strategy is making Asda products more accessible to customers in convenient locations, be this through the rollout of our Asda On the Move format across EG Group forecourts, or the potential for standalone convenience store opportunities.
"As we consider how best to develop Asda's presence in the convenience market, we will require talented individuals to join us on this journey and help us achieve our long-term ambition."
Retail analyst Bryan Roberts, who highlighted the job ads on social media, suggested Asda's late entry into convenience could be challenging,
"It's going to be tricky launching from scratch given that most of the best sites are already occupied," he said, "But given that we don't know much about the proposition or format, it might be the case that Asda has spotted some sort of gap in the market."