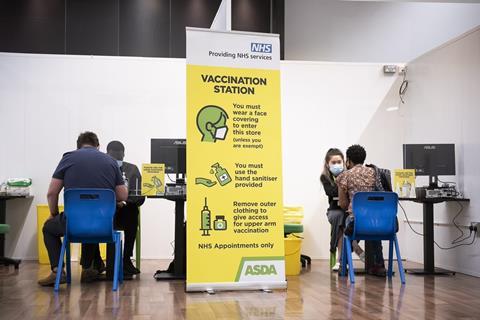 Asda has opened its first in-store Covid vaccination centre in London, at its Old Kent Road Superstore.
The vaccination centre – which has been set up within the George clothing section – has the capacity to deliver upwards of 1,000 vaccines per week.
Asda in January become the first supermarket to provide in-store vaccinations after it was selected by NHS England to give jabs from an in-store pharmacy in Cape Hill, Birmingham. A second vaccination centre opened at Asda's Watford store in February.
Those sites this month reached a landmark with the vaccination of the 26,000th patient.
The Asda Old Kent Road vaccination centre will open seven days a week and trained Asda pharmacy colleagues will administer the Oxford Astra-Zeneca vaccine.
Eligible patients will receive a letter inviting them to book an appointment for their vaccine with the NHS directly and have been urged not to contact the store.
"We are so proud of the teams across the two sites and are pleased we can extend this clinical service to patients in London," said Faisal Tuddy, Asda superintendent pharmacist.
"Our Old Kent Road store will have capacity to vaccinate 1,000 people per week, which we hope will be a big step towards helping the local community return to normality."
Asda has offered NHS England the full use of its 238 in-store pharmacies and qualified pharmacists to support the rollout of the Oxford/AstraZeneca vaccine programme.
"Our in-store pharmacies are located at the heart of communities and easily accessible, which makes them a convenient option for priority groups living nearby," Tuddy added.