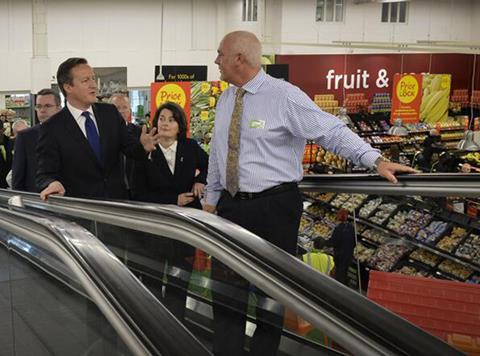 Walmart boss Doug McMillon has said Asda's new five-year strategy has the potential to create up to 12,000 jobs.
Roles would be created in areas of the country not currently served by Asda, the retailer added, with its "ambition" to build in the region of 40 large stores, 100 supermarkets and 50 forecourt stores.
Speaking this morning on a visit to Asda's Clapham Junction store accompanied by the prime minister David Cameron, McMillon said a "seismic shift" was taking place in retail.
"A seismic shift in the structure of the retail market is underway – not just in the UK – but right across the world," he said. "Asda recognised the change in its market and took early action to develop and implement a strategy that will see it grow – creating more new jobs and bringing real value to more customers in the UK."
McMillon said Walmart had opened 342 stores and created 100,000 jobs since buying Asda in 1999. "It has been a pleasure to meet with the prime minister today and reaffirm Walmart's commitment to investing in the UK."
The prime minister said: "Supporting business, creating jobs and cutting taxes are all part of our long-term economic plan. Yesterday, our tax reforms cut income tax for 26 million people and will help businesses to create jobs. I am delighted that Asda is continuing to invest heavily in the UK, creating another 12,000 jobs that will give people financial security for the future."
In November, the UK's second-biggest supermarket announced a five-year strategy to invest £1bn in lowering prices.
McMillon's visit today coincides with Walmart's plan to hold its first board meeting in the UK this week.
News of Asda's job creation scheme comes just two weeks after Asda president and CEO Andy Clarke outlined a management shake-up and redundancies at head office. In an exclusive interview with The Grocer, Clarke denied the changes were solely about saving money: "We needed to remove duplication to make us more efficient," he said.
Read more of Andy Clarke's interview here.