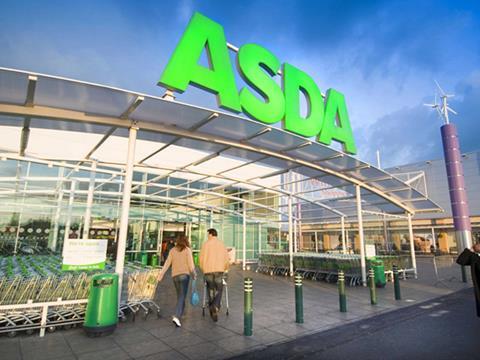 Asda has vowed to continue investing in price cuts and improved service, while indicating that stopping its profits plunging below a billion was also a key part of its turnaround struggles.

The Walmart-owned supermarket today published its accounts for the financial year to 31 December 2016 at Companies House. Like-for-like sales fell by 5.7% (compared with 4.7% in 2015), while total group revenues for the year declined 3.2% to £21.7bn. Operating profits slumped 19.2% to £845.3m, with pre-tax profits down £183.2m from £974.9m in 2015 to £791.7m.

Asda's underlying profit fell 11.5% (compared with 1.5% in 2015) from £1.2bn to £1.01bn last year, The Grocer has learned, with CEO Sean Clarke desperate to avoid it falling below the billion figure.

Asda reported an operating cashflow of £1,412.6m - an increase of 8.0% on the prior year.

In May 2017, Asda reported a 2.8% decline in like-for-like sales (excluding fuel) for the first quarter of the year - an improvement on its fourth quarter performance of -2.9%

However, sources at the supermarket giant indicated that under the new approach by Clarke, there was no prospect of a "major onslaught" against supermarket and discount rivals on price.

The onus would be on continued "steady improvement" in performance across store service, online and price competitiveness.

"There is going to be no sudden declaration of war to bring all prices into line with the discounters," said a source. "The sort of nuclear strategy that some commentators were talking about in 2016 is not going to happen.

"We are not hiding from the fact that these figures are disappointing but they do show that there is momentum in the strategy and hopefully that will be shown further in the results for Q2."
Signs of recovery
With parent company Walmart due to report on 17 August, Asda is counting on signs of recovery, which show a more positive picture than today's report. It is keen to avoid a repeat of Andy Clarke's declaration of the company being at its "nadir" but there is clearly an expectation that the next set of results will be more positive.

"Whilst nobody is complacent with the report published today, the fact is this is still a business with more than a billion in underlying profit," the source said.

"That said, it is a very competitive market, lots of our rivals are at the top of their game, the discounters are showing they are not going anywhere and it does make the job of the turnaround tougher.

"But Sean Clarke has the business set on a strategy which is about doing the basic things of retail right. There's nothing seismic planned, it's all incremental changes for the better across stores, online and, yes of course, price."

Clarke, who took over the helm from his namesake in July last year, said Asda was "delivering more consistently for our customers, particularly in fresh food, service and availability - both in stores and online".

But he said the supermarket was "in no way complacent", adding "there is still much for us to do".

In February, The Grocer revealed Clarke had pulled the curtain down on his predecessor's flagship strategy Project Renewal six months early.
Intense competition
In today's report, Asda's chief financial officer Alex Russo blamed intense competition and low growth in the supermarket sector for Asda's performance continuing to be behind expectations.

But he said it was determined to carry on a strategy revolving around improving its store offering, improving the reliability and performance of its online model and cutting prices.

Asda said a switch to a "low-cost operating model" had led to savings across stores, home shopping and distribution.

"We remain focused on helping our customers save money. Through the cost operating model we continue to generate cost savings which enable us to invest further in price," said Russo.