Asda has unveiled plans to 'revolutionise weeknight meals' with its launch of new ready meal ranges: Bom Bahia, House of Yum, Bistro and Take-out Club.
These are some of 300 new lines due to hit shelves in recent months as part of an upgrade to its ready meal offer. Asda's Indian and pan-Asian meals offer restuarant quality, the supermarket claims, while the ranges would 'inspire and delight time-poor Brits seeking flavoursome weekday meals' says senior director for NPD Linsey Taylor.
'Their release follows a multimillion-pound investment and refresh to improve the quality and variety of convenient pre-prepared meals.'
Can these new ranges spice up suppertimes and break Brits out of their 'culinary rut'? Check out highlights from the new ranges below
Bom Bahia range
Among the first of the ranges in Asda's £19.5m overhaul of its meal solutions range is the Indian-inspired Bom Bahia sub-brand.
The retailer commissioned research by Censuswide, finding that 67% of Brits consider restaurants too expensive, with a quarter claiming they never eat at restaurants due to the cost. Asda aims to tap into the demand for restaurant staples at an affordable price.
"We know that households are facing tighter budgets and as a result they're being forced to cut back on eating out and ordering takeaways, so we wanted to bring an offering to the table that meant people could enjoy restaurant-quality food, at home, free of fuss or expense," says Sam Dickson Asda's vice president for own brand, commercial strategy & operations.
"We worked really hard while developing this range to push ourselves and benchmark the products outside of our traditional competitor set. Instead, we pushed ourselves to develop quality, tasty products that would give restaurants and takeaway chains a run for their money."
Slow Cooked Beef Madras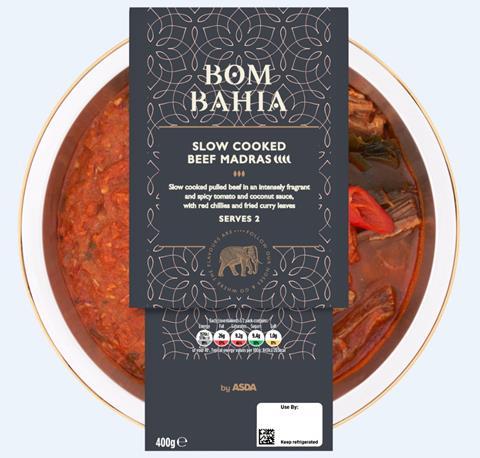 £4.50/400g
Slow cooked pulled beef in a fragrant and spicy tomato & coconut sauce, with red chillies and fried curry leaves.
Tandoori Smoked Butter Chicken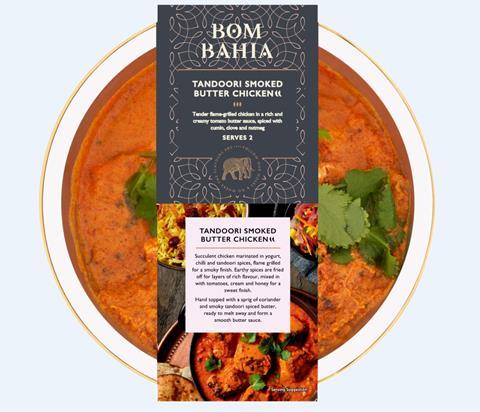 £4.50/400g
Flame-grilled chicken in a creamy tomato butter sauce, spiced with cumin, clove and nutmeg.
Black Lentil Dal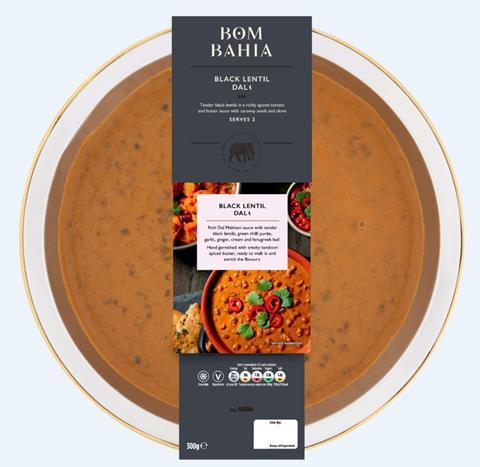 £2.50/300g
Rich dal makhani sauce with black lentils, green chilli purée, garlic, ginger, cream and fenugreek leaf. Garnished with smoky tandoori spiced butter, ready to melt in.
Royal Pilau Rice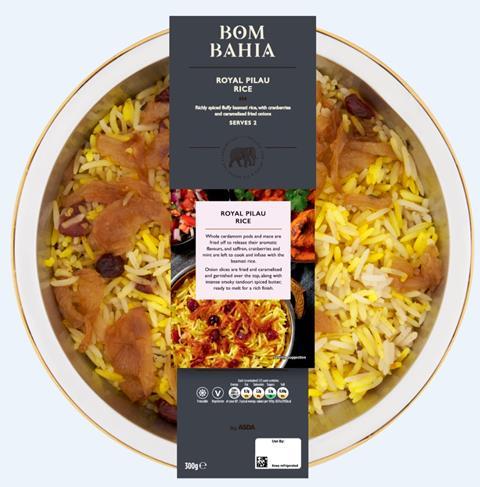 £2.50/300g
Flavours of cardamom pod, mace, saffron, cranberries and mint in basmati rice. Fried caramelised onion slices and smoky tandoori spiced butter to garnish.
Keralan Style Fried Chicken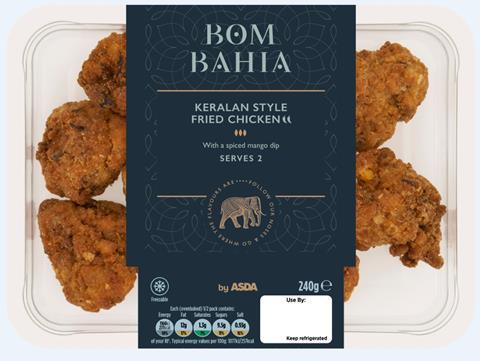 £4.50/240g
Fried breaded chicken breast pieces seasoned with garlic, ginger and spices, served with a mango dip sachet.
House of Yum
House of Yum is Asda's pan-Asian range, featuring dishes inspired by Thai, Japanese and Chinese cuisine. It comprises eight main dishes and five sides, all with minimal prep required.
Asda's research found that though many consumers prefer the taste of restaurant food, 37% worry that their attempts to recreate a dish at home would taste inferior. Another 22% said they thought the cost of buying the ingredients would be too expensive, defeating the object of a home-cooked meal.
Slow Cooked Beef Massaman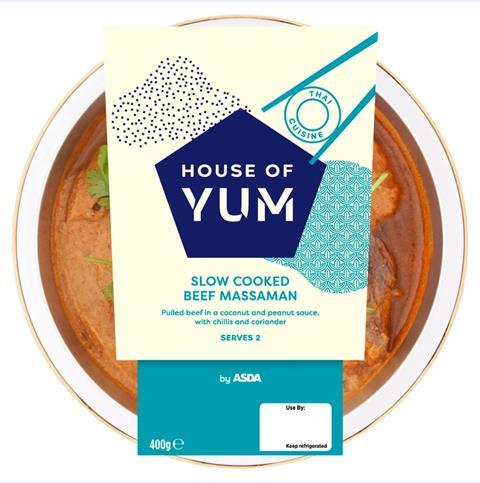 £4.50/400g
British beef brisket, slow cooked and hand pulled. Coated in a creamy sauce prepared with peanuts and lemongrass with notes of cardamom, clove, anise, tamarind and fish sauce. With sliced red chillis and a sprig of coriander.
Slow Cooked Beef Teriyaki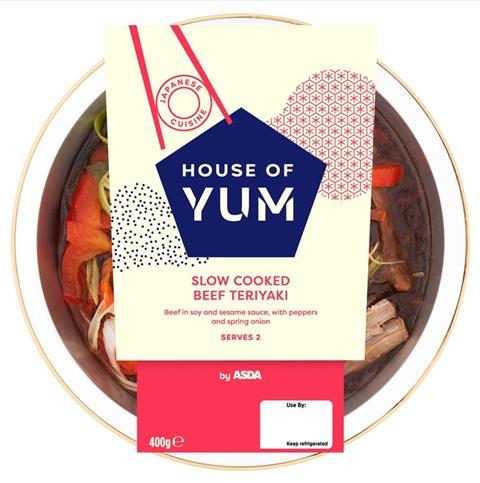 £4.50/400g
British beef brisket, slow cooked and hand pulled. Coated in teriyaki sauce made from soy sauce and garlic with notes of five spice and rice vinegar. Topped with chargrilled red peppers and spring onions.
Aromatic Half Duck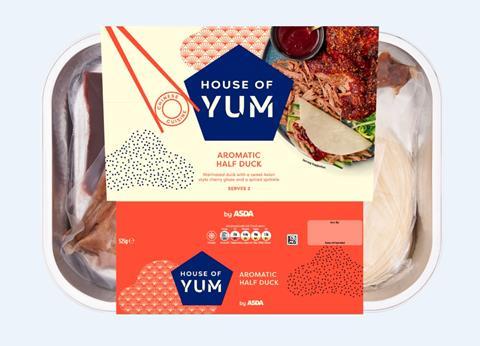 £4.50/525g
Half crispy duck with 12 pancakes, paired with Asian-style cherry glaze, sprinkled with coconut, coriander and chilli.
Ginger & Onion Fried Rice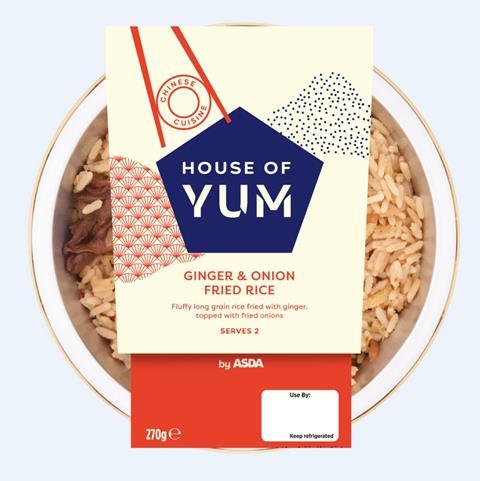 £2.50/270g
Long grain rice fried with ginger, onion, soy and sesame oil. Topped with caramelised fried onion.
Bistro
Full of familar favourites, Asda's Bistro range serves up elevated pub favourites and Italian-inspired dishes.
This brand will also be the subject of a meal deal, offering customers one main, one side and a starter or dessert for £10.
Fish Pie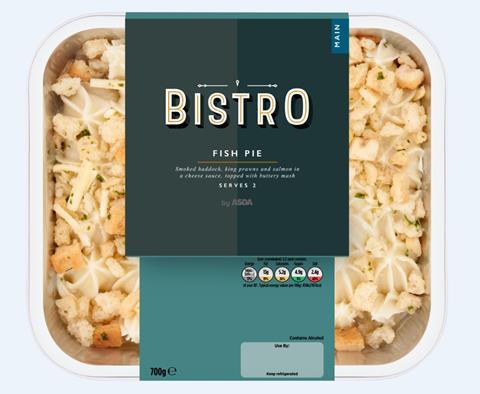 £6/700g
Smoked haddock, king prawns and salmon in a cheese sauce, topped with buttery mash.
Chilli Prawn Bucatini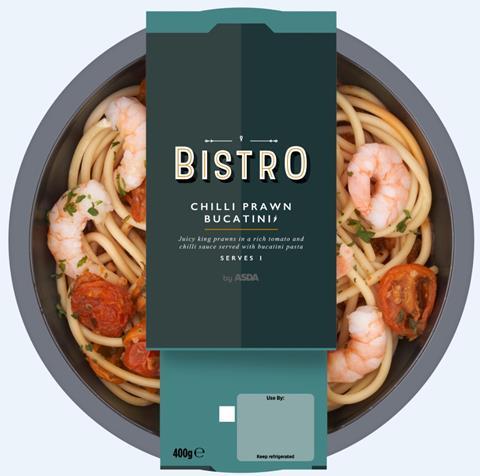 £3.50/400g
Free-range egg bucatini pasta, tossed in tomato and chilli sauce. With king prawns and red and yellow plum tomatoes. Serves one.
2 Runny Scotch eggs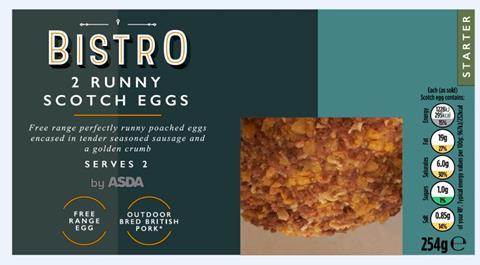 £4/254g
Free-range runny poached eggs in seasoned sausage and a golden crumb.
Lasagne al Forno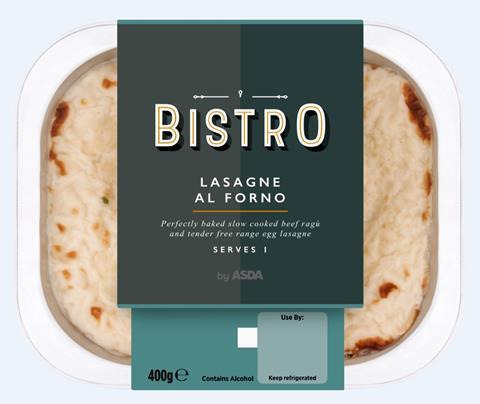 £6/730g
Slow cooked beef ragù with smoked pancetta and a splash of chianti, in layers of free-range egg pasta, topped with a creamy béchamel sauce and extra mature cheddar cheese. Baked in the traditional 'al forno' style.
Triple Cook Chips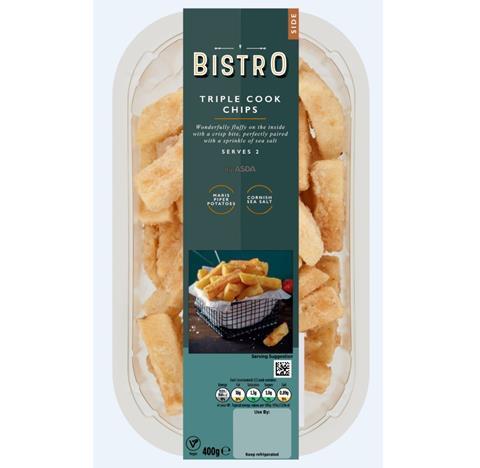 £2.50/400g
Triple cooked, fluffy on the inside chips with a sprinkle of sea salt.
Sticky Toffee Pudding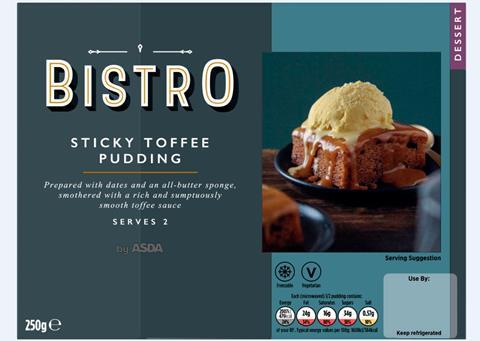 £2.50/250g
Sticky toffee pudding prepared with dates and an all-butter sponge, in a smooth toffee sauce.
Take-Out Club
Move over Domino's. The Take-Out Club sub-brand features a range of pizzas, sides and desserts that are often found on the menus of local pizza delivery shops.
Asda says the range could become a "a strong rival to any pizza takeaway chain". It was designed as the "ultimate indulgence" for consumers looking for a fakeaway, with meal deals offering two pizzas, a side and a dip for £10.
Classic Crust Smokin' BBQ Pulled Pork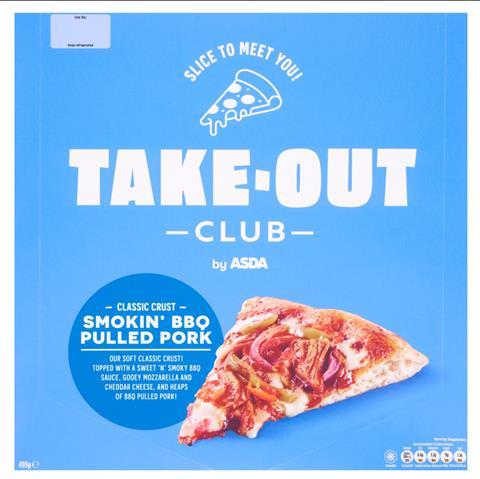 £5/493g
Classic crust pizza topped with a sweet 'n' smoky BBQ sauce, mozzarella and cheddar cheese, and BBQ pulled pork.
Mac & Cheese Bites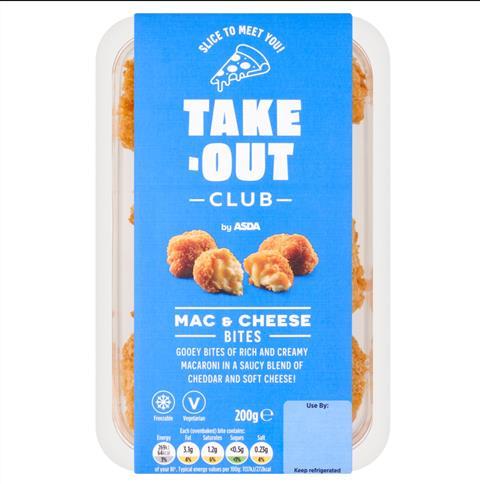 £3/200g
Bites of macaroni in a blend of cheddar and soft cheese.
Cookie Dough Dessert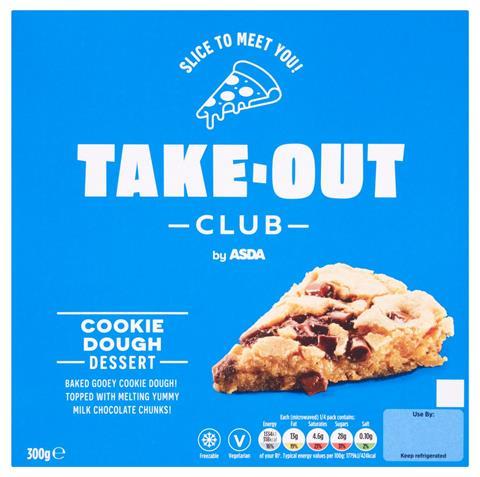 £3/300g
Baked gooey cookie dough, topped with melting milk chocolate chunks.
Cheese & Bacon Potato Skins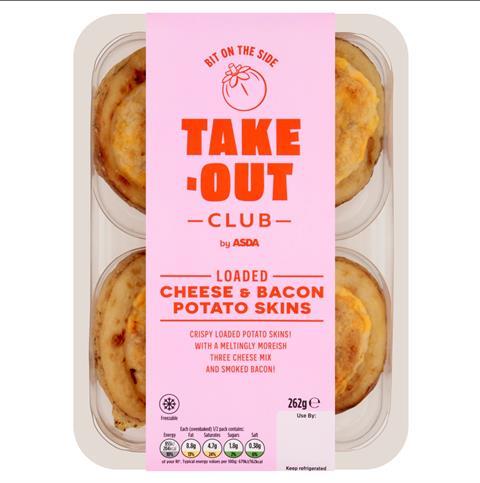 £2.75/262g
Crispy loaded potato skins with a three cheese mix and smoked bacon.
Loaded Hunter's Chicken & Bacon Wedges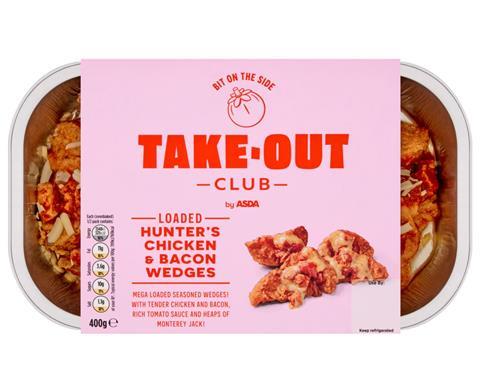 £4/400g
Loaded seasoned wedges with chicken and bacon, rich tomato sauce and monterey jack cheese.