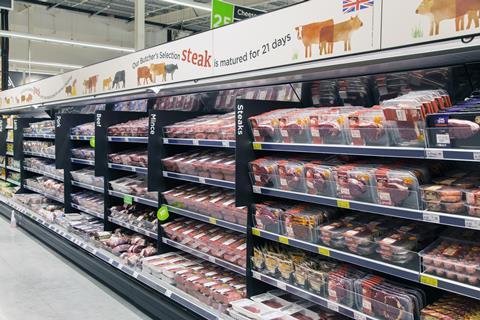 Asda's pledge to source 100% British beef is a pragmatic move to safeguard its supply chain, but it will take time to increase domestic production, industry sources have warned.
The retailer made the commitment as part of a drive to increase the proportion of UK-based suppliers last week, following its acquisition by the Issa brothers and TDR Capital. Other products in the commitment include chicken, dairy, wheat and potatoes.
The switch to 100% British beef is understood to be a short to medium-term goal for Asda and would represent a significant change in policy for a business that has regularly faced criticism over its lack of commitment to UK red meat producers.
The retailer, alongside Sainsbury's, came under fire at the start of lockdown in March for sourcing Polish mince to keep up with high demand from shoppers.
It said at the time its "main priority during these uncertain times is to ensure we can provide groceries week-in-week out for our customers".
Asda has also regularly placed below its main rivals in AHDB's quarterly Beef & Lamb Watch surveys, which track the percentage of meat facings in the mults sourced from the UK.
Just 73% of its beef was sourced from UK suppliers, according to AHDB's latest data from July, and just 45% of its lamb.
"Not too long ago, that beef figure was around the 55% mark, so this commitment is welcome," said NFU chief livestock adviser John Royle. "It's also a pragmatic move given the uncertainty around Brexit and the potential for high tariffs on imported beef."
His comments were echoed by National Beef Association CEO Neil Shand, though he stressed the move to increase the retailer's UK sourcing would take time to implement.
"Production of the beef we're eating today started three years ago, but it augurs well for beef producers," he added. "The challenge for the beef sector now is to step up to make sure Asda isn't given an opportunity to look elsewhere."
However, more could still be done to increase the sourcing of British lamb by the retailer, despite previous warnings there was insufficient supply, added Royle.
"We're seeing a reduction of New Zealand lamb imported into the UK, while retailers like Waitrose, Co-op and Aldi have all made commitments to source only UK lamb, the sector is able to supply it all-year round."
Such a move would be expected in the longer-term, suggested National Sheep Association CEO Phil Stocker.
"Asda have done one or two things to strengthen their British lamb sourcing policy [already] and I would expect they would be trying to source more British lamb in the future as well," he said.
"All [supermarkets] are getting really concerned about the security of their future supply chains," he added.