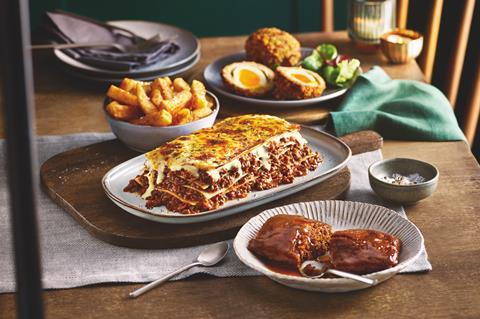 Eighteen months ago, we kicked off a significant own label transformation project at Asda. This involved every single product being reviewed to ensure we meet customer needs, and more importantly ensuring great-tasting products.
The programme has seen us completely reset our quality standards and expectations for every tier and category. The latest development in this journey is the refresh of our meal solutions range, which has involved the introduction of 300 new and improved lines in the fixture in the biggest reset the category has ever seen.
A key element of the meal solutions range development was the introduction of four brand new sub-brands: House of Yum, Bom Bahia, Bistro and Takeout Club. Each of these ranges has its own identity and external benchmarks, providing excellent fakeaway options and restaurant-inspired dine-in dinners.
I am incredibly proud of these ranges and the team that worked so hard to bring the vision to life. One of the pivotal things we did when redeveloping the range was to look outside of our key competitor set when benchmarking quality. Instead, we pushed ourselves to develop tasty, quality products comparable to restaurants and takeaways. This means people can enjoy restaurant-quality food, at home, free of fuss or expense.
Meal solutions is a market Asda has historically under-traded in, and as a category worth over £5.3bn, it provides a significant opportunity for us to grow our business.
This launch is a milestone moment in our transformation journey. It's early days, but we've already seen 27% growth in sales in our meal solutions range in the first few weeks.
However, our mission to improve own brand quality and choice doesn't end there. The investment into the meal solutions range is one piece of the puzzle, and our broader strategy goes much further.
Own label grocery has grown at a record pace in recent years. It now accounts for 53.7% of grocery sales and 62% of volume [Kantar] – so making sure we're getting it right, in terms of quality, choice and value is key to driving growth.
In the past 18 months alone, we've invested over £80m to launch several initiatives to improve the quality of our own-label products and improve customer choice. This spans the launch of Just Essentials in 2022, which completely reimagined what a budget range could be, to the launch of OMV, Bakery and our recently refreshed food-to-go range.
Customers will see these changes in-store, online and through our recent taste match campaign, which involved pitching hundreds of our products against M&S in independent taste tests to prove they tasted as good as, or better than, their M&S counterparts, despite being cheaper. We wanted to prove great-tasting products don't need to cost more.
We will continue with our obsession of providing great Asda own brand value and choice for all customers, whatever their budget, with an uncompromised focus on quality. It's an important mission to pursue at any time, but especially so now, as our customers continue to navigate the cost of living crisis.
There's plenty more to come from us, so watch this space. We'll be kicking off the new year with another exciting new brand in a different space.