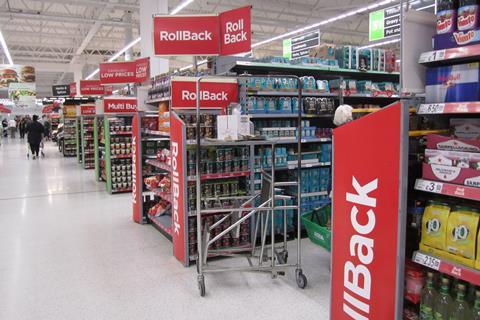 Let's be clear from the off, there is no loyalty in the grocery retail sector. The nature of the industry means convenience trumps all else. However, what this means is that, in such a competitive market, stores need to innovate and be prepared to break the status quo in order to find and demonstrate new ways to showcase a point of difference. Step forward Asda and its new 'pounds not points' loyalty scheme, which gives shoppers cash rewards for buying popular products in store.
The app-based programme will initially be made available to Asda staff at 16 stores across the West Midlands and West Yorkshire as part of the retailer's 'test and learn' approach, but could eventually be rolled out to customers.
I have personally talked to Asda about loyalty but, at that time, the American owners were reluctant to go down this particular route and instead wanted to focus on 'everyday low prices'. Whether it's the macro market price squeeze, consumer (and employee demand) or simply the change of ownership, it would seem there has been a notable change of approach. This is a good thing because of the multitude of value and benefits that a well-managed loyalty programme can bring. A digital loyalty programme will give Asda more customer insight and an opportunity to collect invaluable data.
The 'Asda Rewards' app has two positive things going for it. Firstly, there is a much clearer approach to what behaviour Asda wants to incentivise and, as a result, it would be able to cross-sell and up-sell specific products and offer tailored deals to targeted customers – which would help it achieve its KPIs. Secondly, the set-up uses loyalty gamification, which has proven to increase engagement crucial to customer retention and engagement.
But, like any innovation, success is not guaranteed. Without a simple structure that Asda's customers can remember and easily process, the value proposition might be too complex for users. For the key Asda demographic, savings are extremely important, which is why it would be paramount to clearly show shoppers how to get the best value through the use of the programme. If customers have to go into the app every time they shop to find out which products they would have to buy in order to be eligible for the cash rewards, it would be doomed to fail – people simply wouldn't interact with it. The programme needs to be easy to use and not create any additional friction in the customer journey.
Staying away from the age-old points-based system and opting for a more strategic system may or may not be the right choice for Asda. Success will lie in the implementation of the loyalty logic and offering enough value for effort. Reducing friction will be essential as shoppers are too familiar with loyalty schemes to get on board with just anything. Asda has a lot of catching up to do with other supermarkets and grocery retailers when it comes to loyalty. However, with the right technology and execution I'm confident it can catch up and narrow the gap.