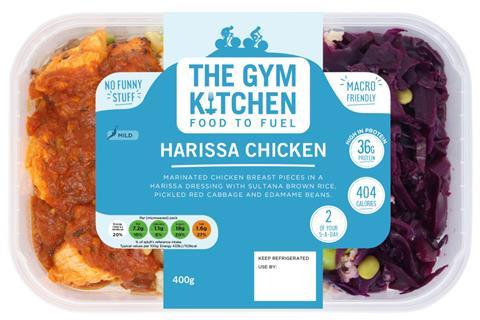 The Black Farmer founder Wilfred Emmanuel-Jones has secured listings in Asda for the latest brand to emerge from his incubator scheme, The Hatchery.
Health and fitness food & drink marque The Gym Kitchen started selling four chilled ready meal SKUs at the retailer on Monday (6 January).
The new range comprises Piri Piri Chicken, Korean Beef Chilli, Harissa Chicken and Chicken Tikka (rsp: £3.25/400g) and promises ready meals which are "freshly made, macro-balanced [and] high in protein".
"This is a convenient meal for the health and fitness market. I have spent the past 18 months working on delivering macro-balanced ready meals identical to meal prep," said The Gym Kitchen founder Segun Akinwoleola.
The Gym Kitchen is the second brand from the incubator scheme to have secured listings since it launched in 2018, after authentic Swedish meat brand Smörgåsbord rolled out into Asda and Ocado in February 2019.
Emmanuel-Jones has also announced plans to launch a high-welfare halal food and drink firm called The Tayyib Principle.
Offering "premium higher welfare" halal meat, the Black Farmer will work alongside its founder and butcher Mohammed Kash Af Sultan in a bid to gain retailer listings this year. Products available would include a variety of fresh chicken cuts, with the range accredited by both major halal certification bodies, the HMC and HFA.
"Halal is focused on the slaughter, whereas the Tayyib principle is focused on how the animal is reared and slaughtered," said Kash.
"The Muslim community, like the mainstream, care about how the animals are reared and slaughtered."