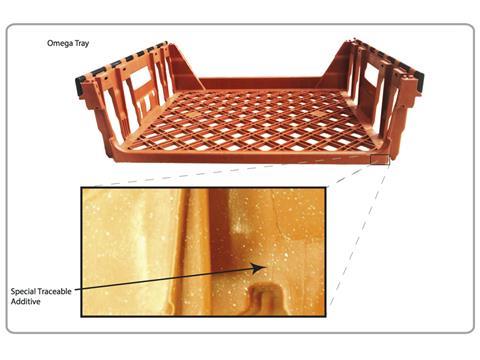 Top baking names are using new bread baskets with built-in glitter as a novel way of tackling illegal recycling by polymer recyclers and equipment thieves.
Bakers Basco, producer of the Omega Bread Basket and Dolly, has come up with a glitter additive it adds to its products.
This makes identification of the plastic possible even after recycling and processing, and can negatively impact recycling processes. Once added, the additive could not be removed, creating a lifetime of traceability, the company said.
More than 20 leading bakers, including Warburtons, Hovis, Frank Roberts & Sons, Fine Lady Bakeries and Allied Bakeries, are using the "glitter" baskets.
"We have introduced this initiative to help reduce the possibility of plastic baskets and dollies not being returned to their legitimate owners," said general manager Steve Millward. "This is an important issue that recyclers and waste management officials should be aware of as the glitter can have a negative impact on processes. At the same time, we hope it will encourage abusers to ask themselves, is it really worth the risk?"
Millward said attrition had been a "tremendous" issue in the industry for many year, incurring millions of pounds of costs for bakers in lost equipment.
The baskets were illegally used and stolen for the raw monetary value of the plastic polymer, in many cases, in the same way that metal was stolen, Bakers Basco claimed.
This is not the first time Bakers Basco has moved to crack down on illegal activities. It also incorporates a GPS tracking device into its equipment.
Five of the UK's leading plant bakers set up the company in 2006 to buy, manage and police the use of a standard basket for the delivery of bread to retailers and wholesalers.