First came the cronut, then came the duffin and now we have the dogel.
But do such weird and wonderful creations have legs in the UK? Asda thinks so. With in-store bakery sales struggling across the category as a whole - in part because high street artisan bakeries are doing so well - Asda's bakery department has conjured up the 'croll', a cross between a croissant and a roll on-the-go. The croll (rsp: £1/2 pack) hit the supermarket's bakery aisle in September combining the buttery taste and flaky texture of the croissant with the structure of a sliceable bread roll.
With trendy baked hybrids making their mark in the bakery aisle, here's your ultimate guide to Frankenstein bakes:
Cronut
Arguably the central pillar of hybrid bakery products, the deep fried croissant-doughnut mash-up has now well and truly entered the mainstream. Born in the Dominique Ansel bakery in New York, the creation drew in such crowds that a pre-order cronut website service was created which offered customers a two-week wait time if they wanted to get their hands on one.
The flakey bake is now readily available from retailers and bakeries in the UK, mostly under the non-trademarked name crodough, and it has been recreated in many weird and wonderful flavours including the Creme Egg variant from Rinkoff's Bakery (pictured).
Label-loving Londoners can pick up an original trademark-bearing Cronut from Dominique Ansel's Belgravia bakery for £4.50 but for bargain hunters, there's always The Greggsnut from Greggs for £1.
Cretzel
Also known as a proissant, the origins of this franken-bake are unclear but it was brought into the mainstream by Coyle's Bakeshop in Seattle where they fly off the shelves for $3.25 each.
To create the cretzel, croissant dough is coated with lye, which is what gives fresh pretzels their dark, glossy brown colour and chewiness, and topped with flakey sea salt.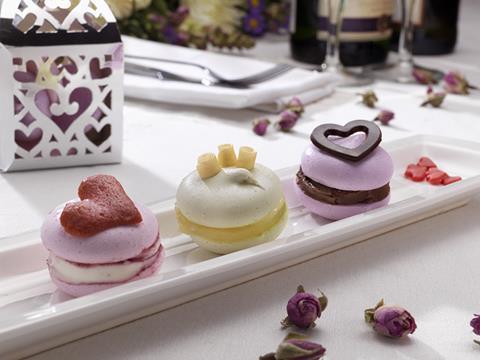 Macaringue
The lovechild of a macaroon and a meringue, the macaringue is a thicker, fluffier version of a French macaroon.
Lees of Scotland (rsp:£3.00/24 pictured above) has supermarket listings for its ready-made macaringue halves which are flavoured with almond and can be filled with anything from jam to ice cream. They're also only 9 calories per shell and gluten and nut free - which Lees says makes them the "perfect guilt-free treat".
Crookie
Courtesy of Toronto's Clafouti Patisserie et Café, the Crookie is a freshly baked croissant filled with triple stuffed Oreo cookies.
Invented by pastry chef Olivier Jansen-Reynaud, this dessert was initially created for a competition but quickly went viral, after being shared online by the likes of Paris Hilton and Time magazine, and Jansen-Reynaud trademarked it a week later.
Duffin
In 2013, London bakery Bea's of Bloomsbury hit the headlines when it was plunged into the centre of a legal row with Starbucks over the ownership of the Duffin name.
Baker Bea Vo said the move by Starbucks to claim the legal trademark of the hybrid's name would prevent her selling her own buttermilk batter creation, which had already been on shelves for more than two years and the recipe of which was published in her cookbook.
After a media frenzy and hashtag #duffingate, Starbucks quickly admitted that it did not invent the Duffin and the raspberry jam-filled muffin which is baked, dipped in butter and coated with sugar is still selling at Bea's for £11.60 for four.
Townie
Another creation by Bea's of Bloomsbury, this cross between a tart and a brownie has a gooey centre and crisp outside shell. The dessert was born after the palaver with Starbucks, when Bea's was challenged by the Evening Standard to create a new hybrid pâtisserie item that could rival the Cronut.
Bagnut
Also known as the Dogel, this doughnut bagel hybrid came to light after it was mentioned on Netflix series Orange is the New Black. Though the mention was intended to be a facetious jab at New York City food culture, the savoury doughnut was willed into mainstream existence.
Washington bakery B.Doughnut has taken inspiration from Portuguese Malasada doughnuts for its "The Everything Bagel Doughnut" which is available filled with a variety of traditional bagel toppings including smoked salmon, chives, crab and bacon - all of which come with cream cheese.
Cruffin
Brought to the UK by sourdough bakery and cafe Foxcroft & Ginger, this hybrid is essentially a sugar-covered croissant in a muffin shape which allows it to be stuffed with various fillings and toppings. Foxcroft & Ginger have experimented with flavours like Eton Mess and Honeycomb & Lemon.