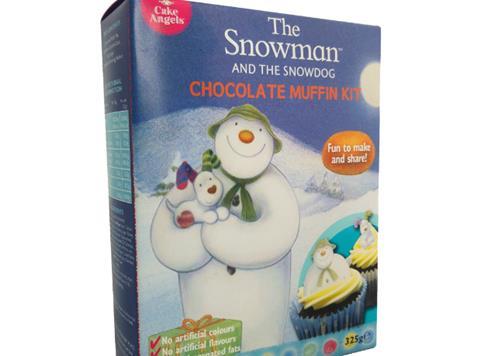 Christmas characters created by children's author Raymond Briggs are the stars of new home baking kits from Fiddes Payne brand Cake Angels.
The first of the two festive NPDs is The Snowman and the Snowdog Chocolate Muffin Kit, which features printed muffin cases, chocolate muffin mix, icing sugar, and character-themed wafers (rsp: £1.89).
The second SKU, The Snowman Gingerbread Kit, allows shoppers to create 'a classic gingerbread but with a twist'. It contains a gingerbread biscuit mix, white fondant icing, green and black writing icing tubes, snowman stencil with decorating guidance, and jelly beans (rsp: £2.50).
The kits – which have no artificial colours or flavours – are a 'celebration of the innocent adventure and magic of childhood', according to Fiddes Payne.
The supplier's marketing controller, Maggie Walker, added: "The Snowman is a classic, enchanting Christmas tale we've all grown to love, and the sequel featuring his canine friend is a lovely addition.
"These kits aim to bring everyone together for some quality time and create a personal treat to share as a family."