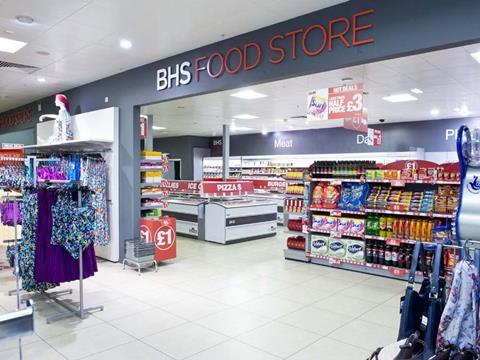 BHS has announced new contracts with Booker and Compass Group to extend and improve its convenience and café offerings.
The high street retailer, which was acquired by Retail Acquisitions last month, said Booker would be its exclusive food supplier for its convenience offer.
It has been trialling convenience in its Romford, Staines and Warrington stores and said it now wants to extend this to a further 20 stores by the end of the summer, creating 250 jobs.
Eurest, part of Compass Group, will take over the operations of all BHS' cafes and restaurants as part of a multi-million pound upgrade.
"These two strategic deals mark the start of a new journey for BHS: we aim to surprise consumers with an expanded range of products and services and to return this iconic and very British brand to the hearts of people across the country," said BHS CEO Darren Topp.
Booker sales director for retail Steve Fox added: "We are happy to support Darren and the team with his plans at BHS for a further 20 Foodstores. The BHS pilot has confirmed that the market wants it back in convenience foods, and we are delighted to help BHS return to this heritage area."
Andy Barry, MD of Eurest, said: "We work closely with our clients to deliver innovative food offers and excellent customer service in a welcoming environment and we can't wait to bring our concepts for BHS's cafes and restaurants to life, enabling BHS to further enhance the customer experience."