Piccolo founder Cat Gazzoli is taking on the giants with a cooking range, organic formula and eco-friendly packs. And she has big plans for the future
Talk of CEOs 'living the brand' usually garners a few eyerolls. In the case of Piccolo founder Cat Gazzoli, though, the description feels justified. She arrives to be interviewed with boisterous baby daughter Scarlett, who, throughout the conversation, sporadically interjects in a manner not dissimilar to an enthusiastic publicist.
Not that Gazzoli needs much help on the PR front. Piccolo has just capped off an extraordinary 18 months, which saw it mount a challenge to Nestlé and Danone in the baby formula category and launch the UK's first fully recyclable baby pouch.
Most notably, Gazzoli claims the brand has created an entirely new category: 'cooking for babies'. The pandemic has proven a turning point in this strategy, which started in 2019 with the launch of its first stock cubes and stir-in sauces.
"In the beginning it was making people even understand that this category even existed, and making sure parents who might have been looking for something like this in the sauces and stocks aisle knew where it was," she says. "We've had to make sure retailers understand this is not a niche."
With the advent of Covid, this concept took on a broader appeal. "It massively accelerated the number of parents cooking at home," says Gazzoli.
So it was an opportune time for Piccolo to roll out its range of no added sugar or salt powdered stocks for babies into Boots last summer. "It was a big risk for us. There was just nothing like this on the market for babies and toddlers," she explains. "If you use a regular adult stock cube to make food for a baby, you're basically giving them much more salt than they should have that day."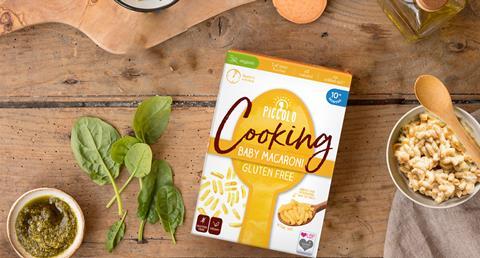 Luckily, the gamble paid off. "We had an incredible reaction," says Gazzoli, who describes the move as "a real breakthrough from an innovation perspective".
Buoyed by this success, Piccolo has introduced a swathe of new lines including risottos, cooking sauces, gluten-free pastas and specially designed, kid-friendly mac 'n' cheese into the likes of Boots, Sainsbury's, Co-op and Ocado over the past month.
It's been no small feat. The new SKUs have required hefty investment, all-new supplier relationships and a significant increase in headcount. Much of which Gazzoli has personally overseen – with Scarlett in tow.
"I have been on the ground with suppliers, making sure things are running where they need to be, spending time with people like our pasta supplier to make sure the gluten-free pasta would be ready in time," she says.
Designing products for babies requires an extra level of precision, Gazzoli adds. "We're talking about organic certification, making sure it is baby-grade and making sure the size of the pasta and risotto is safe, working with a host of experts and paediatricians."
A new shopper
The omens suggest that hard work is paying off. Gazzoli says Piccolo's steadily growing cooking range has helped parents make some five million home cooked meals since it first launched.
And the brand is certainly outperfoming the wider market. While sales of traditional babyfood products such as pouches, prepared meals and on-the-go snacks fell by a sizeable £10.1m (7.6%) last year, Piccolo held on to its £2.6m value [Nielsen 52 w/e 5 September 2020].
Snapshot
Name: Catherine Gazzoli
Age: 43
Family: Married to Massimo with two daughters, Juliet and Scarlett Rose
The best business advice I've ever been given: From my mentor Prue Leith: "Just keep getting up when you are pushed down"
And the worst: That you need an fmcg background to launch a new baby and toddler range
The last great book I read: The Story of a Brief Marriage by Anuk Arudpragasam. I have always been touched by Sri Lanka's history
Death row meal: Fresh pasta with pesto and natural orange wine
If I could have dinner with one person: My dad, who I would not have had the confidence to launch Piccolo without
Crucially, Gazzoli says the range is attracting incremental shoppers who may not have otherwise bought packaged babyfood. "It's people who might previously have bought a bunch of fresh vegetables and chicken and made their own stock because they couldn't get one that was safe for babies."
It's also appealing to parents cooking for kids who are older than Piccolo's core target age group. "We're getting a lot of feedback that the tomato sauces, for instance, are being used to make a pizza base for a six-year-old," she explains.
Broadening the brand's shopper base is particularly savvy at a time when the baby market is dwindling. Latest figures from the Office for National Statistics suggest the UK birth rate is still on a downward trend.
"There certainly hasn't been a Covid baby boom," says Gazzoli. "In the beginning people were saying 'this is going to be great for you because everyone is going to be at home having babies' but that hasn't happened – although there hasn't been a baby bust like in other countries."
With the full economic impact of the pandemic yet to play out, Gazzoli believes this could put many couples off having children until they feel more financially secure. Against that backdrop, the cooking range is one way Piccolo is encouraging people to "stay in the category for longer", she says.
"It massively accelerated the number of parents cooking at home"
Equally, Gazzoli is looking to gain share of the ever more competitive core market by taking on the giants. In the past year, it has laid down the gauntlet to the likes of Nestlé and Danone with its own range of Truly Organic formula milks. Plus, the brand has pushed through Covid delays to bring its potentially game-changing recyclable pouch to market – something that many of the bigger names are yet to manage.
"Everyone is saying 'let's do this by 2024' but I wanted to do something now to get the ball rolling and show the sustainable, recyclable pouch exists," says Gazzoli. That was a challenge, given that many UK councils still lack the infrastructure to properly recycle flexible plastics. And make no mistake, "doing the right thing costs more", says Gazzoli.
"But we weren't going to wait years until every council accepts this kind of sustainable packaging before making it live." So Piccolo partnered with recycling scheme First Mile, through which shoppers can return their packs for free to be recycled.
It's this ambitious attitude that has enamoured Piccolo not just to parents but to investors – backers include the likes of celebrity chef Prue Leith (a mentor to Gazzoli) and PE firm DSG.
This kind of support suggests the big names in babyfood would do well to take heed of Piccolo. Because if the past 18 months have represented baby steps into new territory, expect to see some big leaps ahead.


Daniel is The Grocer's food and drink editor and is responsible for our product coverage across all fmcg categories.

Daniel has written about food and drink for the majority of his career: prior to joining The Grocer in 2017, he covered food and drink news on pub industry title The Morning Advertiser, and wrote features for VICE magazine.

Follow Daniel on Twitter: @WoolfsonExists