Pilgrim's Food Masters CEO is taking some of the UK's biggest meat brands and turning them veggie. So far, at least, it seems to be working
Pilgrim's Food Masters has built its business on meat. And successfully, too. Its flagship brands – Richmond, Wall's and Fridge Raiders – show no sign of slowing down. Richmond alone increased sales by 10% last year to £163.4m [NielsenIQ 52 w/e 1 January] – cementing its touted position as the "nation's favourite sausage".
But its growth strategy revolves around a very different market. Since being bought by US meat giant Pilgrim's Pride in June last year, the company formerly known as Kerry has been zeroing in on plant-based.
For CEO Nick Robinson, it's a no-brainer. Having joined the business when it was still owned by Kerry Foods back in 2017, he has overseen its blitz of meat-free NPD from sausages to mince and even bacon.
Having established meat brands has proven a distinct advantage, rather than a hindrance, he says. Robinson points to Richmond as having a unique ability "to engage the unengaged in meat-free". Not only has the brand built up long-standing trust with consumers, it's created an "authentic sausage taste and feel" in its soya and wheat protein-based bangers and plant-based stablemates.
The sales figures testify to that appeal. Richmond's plant-based variants grew well ahead of the wider category last year at 191% [NielsenIQ 52 w/e 11 September], meaning they are now worth more than £27m after just two years on supermarket shelves.
Now Pilgrim's wants more of that success – and Robinson is the man to deliver it. The Manchester-born fmcg veteran boasts a marketing-led career spanning more than 25 years. It began in 1995 with a 14-year stint at Diageo – "an amazing training ground" where he also met his wife – that was followed by roles as marketing director for both the Guinness brand and the company's global travel and Middle East operation.
He left for Coca-Cola in 2009, which presented the "once in a lifetime opportunity" to oversee the Coke brand during the London Olympics, before moving on to AB InBev, and finally arriving at Kerry Foods as marketing director five years ago.
In September last year, the 53-year-old father-of-two replaced now-Noble Foods CEO Duncan Everett in Kerry's top job. At the time, Kerry was already in the process of a very clear pivot towards developing a "global taste and nutrition business", Robinson says, with consumer-facing brands like Richmond and Wall's becoming a much smaller part of that business "not in line with their overall strategy".
JBS buyout
So the sale to JBS-owned Pilgrim's Pride, which saw the business rebadged as Pilgrim's Food Masters, didn't come as a big surprise. Kerry's strength in both branded meats and own-label meals represented a "very clear and obvious play" for Pilgrim's Pride, which had already made its mark in the UK with its £1bn purchase of Moy Park in 2017 and £290m acquisition of pig processor Tulip in 2019, Robinson suggests.
It meant the whole team – made up of more than 4,500 staff employed across nine manufacturing sites in the UK and Ireland – transferred over to Pilgrim's last June in a £704m deal to create the new group.
The purchase instantly made Pilgrim's Pride a "leading prepared foods and branded products player" in the UK and Ireland, said its CEO Fabio Sandri at the time.
Given his background in integration and transition, Robinson has embraced the company's ownership switch. In fact, he describes the process of "creating a new exciting business" under the Pilgrim's umbrella as a "career highlight".
Compared to some of the other transitions he's worked on, this one has been "pretty seamless," he says. "That's because of the strong cultural fit between the two organisations."
Name: Nick Robinson
Age: 53
Family: Lives in London. Married to Anita, with two boys aged 18 and 16
Potted CV: 14 years at Diageo, five at Coke and three at AB InBev. Joined Kerry in 2017, made CEO in 2020, before transfer to Pilgrim's in 2021
Hobbies: Running with friends every Saturday morning, golf, watching my sons play football
Favourite football team: Manchester United (sadly in recent times!)
Best career decision: Joining Diageo, an amazing training ground for marketing and leadership, populated by great leaders to learn from. I was also lucky enough to meet my wife there!
Worst career decision: Taking a job knowing the boss had a bad reputation and thinking I could change them
Best advice received: Don't obsess about the next job, obsess about doing a brilliant job in the one you are in
Business mantra: There is no such thing as tired brands, only tired people
Currently reading: The 100-Year Life by Lynda Gratton
Indeed, there are already some clear benefits of being part of the JBS family. For example, Robinson won't rule out finding ways to work with Pilgrim's UK on pork sourcing or Moy Park on poultry sourcing for its brands and own label products.
"We've got to know our sister companies better in the last six months," he says. "There are definitely greater possibilities for us and for them in terms of how we might work together and collaborate."
When it comes to plant-based, there are clear benefits, too. Parent JBS acquired plant-based brand Vivera last April for £296m, forming part of its circa £2.5bn investment in establishing a UK-led European manufacturing footprint over the past five years.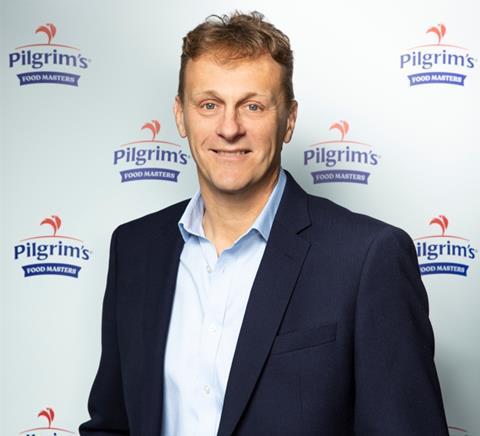 Pilgrim's Food Masters already has a good relationship with Vivera, says Robinson. The two businesses have worked together on "particular projects – such as around innovation capability". He hints at more collaboration to come later this year. "Across the broader [JBS] company we now have two strong brands in Richmond and Vivera in the meat-free space that are pretty complementary with different ranges," he points out.
Robinson is clearly confident in the plant-based strategy – and he has a right to be. Pilgrim's has seen some "explosive growth" since launching meat-free lines, with total revenues up 7% last year. Although it's not all about plant-based – its ready meals business, which makes up roughly half of its output, is "growing even faster" than the total group – that's clearly the focus of its innovation efforts.
Take Fridge Raiders. A meat-free range will launch later in 2022, in a bid to continue the 30% growth in revenues last year, he says. Robinson expects Richmond to also continue on its impressive trajectory after expanding into not only meat-free sausages, mince and burgers in recent years, but also chicken sausages and into the frozen category.
Its been a "great growth story", and is all about offering as much choice as possible. But the challenge now is to "make our meat-free business as big as our meat business". This is the target for the Richmond brand and the wider Pilgrim's business, he says.
"How do we build a broader and more successful business that has choice at the heart of it, whether you want a pork or chicken or meat-free sausage? We've now got a range that will allow you that choice," Robinson sums up. "We've also got good growth and ambitious owners. So that's the exciting part for all of us here."