Guy Singh-Watson is the tough-talking entrepreneur behind Riverford's fast-growing veg box business. He reveals what's next on its sustainable agenda
Guy Singh-Watson isn't one to mince his words. Five minutes into our interview, the founder and chair of Riverford Organic is holding court on the "tremendous amount of bullshit" going on in the worlds of business and sustainability.
He isn't short of examples – which he often illustrates by despairingly holding his head in his hands. Take Farmdrop. While the premise was admirable, it had a "ridiculous business model that was absolutely doomed to fail". He's even more scathing about government efforts to address the climate crisis. COP26 was "a complete and utter joke", and he wants to put his local MP's "head in a vice" for ill thought-out comments on regenerative agriculture.
Singh-Watson is of course the last person who would put someone's head in a vice. A self-confessed "Birkenstock-wearing hippie", he has a strong focus on sustainability and ethics, which is reflected throughout Riverford's operations. But his straight-talking, hard-headed edge means the business is making money, too.
Unlike many DTC rivals, Riverford was turning a profit before the pandemic. Lockdowns simply acted as a catalyst. Profits before tax reached £9.6m in the year to 30 April 2021, driven by a 45% increase in sales to £109.6m.
"We probably could have grown by 250% if we'd been able to meet demand," Singh-Watson adds.
On reflection, he believes the business "got it about right" in balancing the need to gear up the business with the wellbeing of staff. Riverford managed to avoid any substantial increase in headcount to cope with the surge – instead driving efficiency by cutting its range from 300 to around 100 SKUs.
Name: Guy Singh-Watson
Age: 61
Born: Totnes, Devon
Lives: Ashburton, Devon. I managed to move about three miles in 60 years
Family: Four children from first marriage, aged 23 to 30. One stepdaughter aged 12 from second marriage.
The best business advice you've ever been given: "We all think a lot less than we think we think" ie we are all essentially emotional (rather than rational) beings and will make better and safer decisions once we stop denying that fact.
Career highlight: Being named BBC Farmer of the Year (twice).
Career mistake: Thinking I could walk on water prior to the 2008 crash – ie the complacency that comes with success and the assumption the world will carry on more or less as we have known it.
Best book you have read recently: Any Human Heart, William Boyd. A long, rambling tale of a long, rambling life lived by a deeply flawed but still likeable protagonist.
Death row meal: Radicchio risotto.
For Singh-Watson, it was a useful exercise to determine what the business did best. He was happy to ditch wine, for example. "People don't respect us for wine," he says. "The honest truth is we don't know the first damn thing about it and we sold tiny amounts."
Riverford had previously fallen into the trap of being "busy fools", he admits. So there are no plans to go back to the 300 SKUs of the past. The reduced range has made it more profitable and, what's more, much of its lockdown custom has remained.
"Actually the customers we acquired through the pandemic have been, if anything, more loyal," he says. It means sales for this financial year are set to be roughly on par with last year's, though about 5%-6% behind the company's "ambitious" budget.
Throughout all of this, Singh-Watson gives the impression he has been pretty hands-on, despite only working a day or two a week at Riverford. He emanates a sense that it would be tough for him to let go of what he describes as his "fifth child".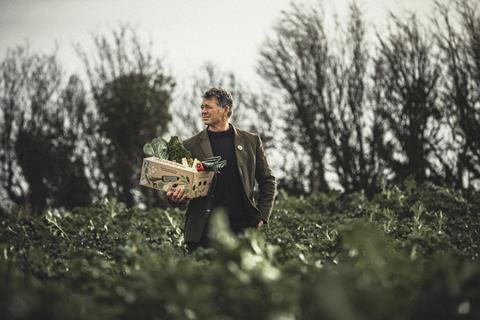 That depth of feeling is unsurprising. Devon-born Singh-Watson grew up at Riverford Farm and only left farming briefly to pursue a somewhat uncharacteristic stint as a management consultant aged 23.
"I was wiping off the cow shit one day and then putting on a suit and going up to London the next," he recalls. He rose quickly and within 18 months was in charge of opening an office in New York.
But he soon tired of the "morally bankrupt" scene and reconsidered his career path. "I never had any big plan, it was just I knew I couldn't be employed by anyone else," he explains. "I had to be running my own business. I knew it had to be outside and I was pretty sure it had to be something around food and farming."
Birth of the veg box
So Riverford was born in 1987. Having started out selling small quantities of organic fruit & veg locally, Singh-Watson eventually went into the supermarkets in 1990. But as the organic market grew and more players entered, the balance of power shifted to a point that made him uncomfortable.
"I asked a supermarket buyer if we could delay an appointment by a day and he put the phone down on me," he recalls. "I rang back and he said: 'Look sonny, when we whistle, you jump and ask how high.'"
This kind of interaction prompted his decision to go DTC – before the term was invented – with the launch of Riverford's fruit & veg boxes in 1993. By 2002, they were big enough to allow Singh-Watson to wave goodbye to the mults.
The recipe boxes were something of a punt. "All the trends seemed to be towards choice and ever larger out-of-town hypermarkets," he says. "I'm sure any management consultant would have told you it was completely bonkers."
But his stint in the consultancy world taught him a valuable lesson about market dynamics: "The world is a brutal place and market power is everything. And the people who make the money are invariably the ones who control the marketplace."
Being a DTC player also gives Riverford the ability to set his own terms – something that has come in particularly handy of late. In January, it hiked prices by 4%-5% due to the rising costs of labour, packaging and transport. "I don't think it's inconceivable we'll have to look at another price rise before next January," Singh-Watson admits. For him, it's more than justified.
"I spent 20 years probably underpaying staff and suppliers and I'm just not going to do it any more," he stresses. "We're going to pay proper wages and charge what it costs to run a business. I still think we represent good value relative to our competitors."
This all comes back to his long-running argument about the value of food. He finds it "infuriating" there is so much focus on the cost of food, as opposed to larger outgoings such as rent, when purses are squeezed.
"Someone declaring a climate emergency just means absolutely nothing. What matters is actions"
Farming accounts for around 0.7% of GDP, he points out – an unsustainable level, especially as CAP subsidies are being axed. "You can't maintain diversity and the countryside and healthy and high-welfare food while at the same time removing subsidies and policy payments… it just doesn't add up," he argues.
That's another bugbear: carbon offsetting. "The assumption is farmers are going to make up the difference from subsidies by selling carbon credits and that just drives me up the wall. There's no metric for doing that, no reliable way of measuring soil carbon. You can go to three different labs and get three different results."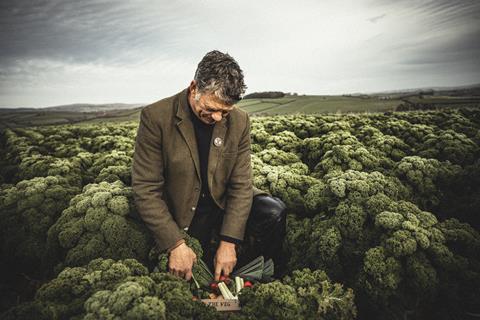 For this reason, Riverford was somewhat slow to commit to being net zero by 2030. "We wanted to wait until we'd done the research to have a reasonable idea of how we could do it," Singh-Watson says. "Someone declaring a climate emergency just means absolutely nothing. What matters is actions."
On that basis, Riverford is ringfencing £1.8m of its profits to plough into tangible environmental projects. These include electrifying its delivery fleet, installing solar panels and windmills, and planting walnuts, hazelnuts and chestnuts in fields. He believes Riverford can eventually more than halve the carbon intensity of every delivery it makes.
At the same time, Riverford is working on its internal culture. For Singh-Watson, the most important development was the move to 74% employee ownership in 2018. "Our staff retention is much better and we have a better working culture," he reports.
There is a benefit to Singh-Watson too, who baulks at the idea of an external operator taking control: "I felt selling it to anyone else would be prostitution."
And if there's one thing this straight-talking entrepreneur is determined to avoid, it's selling out.