After 10 years, Jim Cregan's iced coffee brand has revamped, but plans for a cola and its on-trade debut are on hold. For now
A decade has passed since Jimmy's co-founder Jim Cregan came back from Australia, armed with a new business idea inspired by the "amazing" iced coffee he'd experienced.

With the help of a loan from his parents, Jim and his sister, co-founder Suzie Owen, set up the business, gaining the first listing at Selfridges just months later.

"When you start up a company, I'm a big believer in the stars aligning in terms of both what's in your control and what's out of your control working together to create a yes from a buyer."

He admits things would be a lot more difficult now. And that was before coronavirus. "We were the first premium iced coffee and it was a lot easier to get in touch with buyers back then. We gave Selfridges something they were looking for and we were listed with them as soon as we managed to get a barcode and print the cartons properly."

After Selfridges came Waitrose, a considered move by Cregan and the team. "You peak first and then you filter down as you become more mainstream."

Ten years and a boatload of listings later, Cregan puts Jimmy's success down to enthusiasm, positivity and "never thinking it's going to fail".
"You peak first and then you filter down as you become more mainstream"
And, aside from a few small reformulations, the product remains "pretty much the same" as the first one that hit shelves all those years ago.

In that time, Starbucks has become the leading dairy drinks brand, but Cregan hasn't noticed much of a shift in the iced coffee market, npd-wise, so exploration has come from what's been going on outside that.

However, he's cautious about diving headfirst into trends, noting they are often short-lived. He prefers to "take a step back, watch for a little while" he says. That's what he did with the dairy-free market, launching the Oat Latte in July 2017, which has been "quite successful".

Next - having ditched its former Iced Coffee title for the simpler name of Jimmy's to allow for expansion outside its current remit - he's launching Coffee Cola, a combination of cold brew coffee and Jimmy's own cola recipe, which Cregan describes as "a sparkling, mouth-refreshing palate cleanser with a little caffeine hit".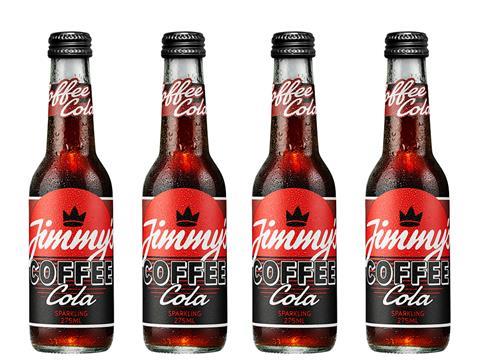 He hopes the NPD, which marks the brand's first foray into the on-trade, will tap into the low & no trend, which Cregan sees as "a pretty big crack, more like a gorge or a canyon - and we want to have rapids of coffee cola going down it".
It's also looking to become single-use plastic-free by the end of this year and will set the wheels in motion by replacing its Oat and Skinny Latte SKUs with Oat and Skinny Flat Whites which, like the Original Flat White, are packaged in aluminium cans.

Eventually, Jimmy's will continue its eco-packaging push with its 330ml Original Latte and Mocha cartons, which have new packs planned for the late summer, and the Original Latte one-litre carton, which Cregan says is "the last piece of the puzzle" and will "probably be the hardest to do".

"If you're going to do something properly, let's go all-out and examine everything", he says, noting that many of the products even had 'mini reformulations' during the rebrand process. And it wasn't just the cartons that got what Jimmy's billed "a fresh trim and a new set of kicks".
"I'm actually quite proud that it's made it to a decade before it's going into a full rebrand"
"A rebrand isn't just cartons, it's rebranding our vans, it's the cool box faces, our coasters, stickers, lanyards. Every touch point has to be the same," Cregan explains.

"When we created Jimmy's we wanted to make sure the brand was timeless, and it seems like a lot has caught up with us and the old brand was no longer timeless. I could quite easily pick it apart, and that's not something I'd have been able to do for the first eight years of its existence." But, he adds, "I'm actually quite proud that it's made it to a decade before it's going into a full rebrand, and it's quite nice to have a decade of design. The next 10 years will hopefully be the same."

His plans don't stop there: he is looking at becoming carbon neutral and getting B Corp status among other things. "And then we might breathe a sigh of relief and have a day at the beach, just hang out and say, 'well done everyone, this is amazing.'"
Coronavirus
But right now the focus is on the coronavirus. The new releases were due to roll out with a big marketing push, including out of home ads and sampling, but this has been placed on hold due to the pandemic. Jimmy's operations director Luke Wilkes said the brand "fully appreciates we shouldn't be trying to pull focus from the real issue at hand" and the campaigns had been halted until "the issue is resolved and society is back to nearing normality".

The brand has instead focussed its efforts on 'keeping chins up' by delivering stock to foodbanks, championing its independent stockists and mobilising its teams to restock shelves.

"Until we were on lockdown we were going into stores and helping stack shelves, which the supermarkets were really happy with, they didn't actually think people would muck in to help so much," Cregan says.

"Their relationship with us and ours with them has become really special, and it's been nice to see the human community spirit coming out of everyone."

Now, it will try to keep chins up digitally, by encouraging followers to send in pictures of what's keeping their chin up, be it a walk on the beach or a cool playlist.

"Whatever we can do digitally, we will, but we also know that this is a very serious matter, so we've got to tread lightly," Cregan adds.

And while others have started a DTC operation, Jimmy's has chosen to close its online store for now. "I'd rather know that everyone is following the guidelines and not getting or spreading coronavirus, than have someone go in to fulfil a few cases of iced coffee and a couple of pieces of merchandise," he explains. "Our online store is not a massive deal to us financially."
Snapshot
Name: Jim Cregan
Age: 38
Family: Wife and two children
Potted CV: Hole digger, wood painter, main stage festival host, magazine delivery boy, promo worker
Worst career decision: Losing an entire summer to work on a Cravendale milk supermarket tour dressed up as a pirate
Best career decision: Starting an iced coffee company
Business mantra: Keep your chin up
Business idol: [Patagonia founder, rock climber and environmentalist] Yvon Chouinard