Reynolds lost 95% of its wholesale sales overnight when Covid hit, forcing drastic cuts. Sales are still down but today it's a changed business with fresh ambition
Every morning when Tony Reynolds arrives at his Waltham Cross headquarters, he passes his grandfather's greengrocer's barrow in the central hallway. Sitting atop a grey plinth, it is a remnant of the family's first fruit & veg stall on Hackney's Ridley Road Market in 1945. Reynolds was a very different business back then. Photos on the wall show the stall's founder – Tony's grandfather – packing oranges into a customer's small paper bag.
Today, 33 years since Tony took over the reins as MD, Reynolds has grown to be a national wholesaler with an annual turnover of £225m, supplying fruit & veg into high-street eateries such as Pret a Manger, Itsu and Wagamama, as well as thousands of other independent restaurants, pubs, bars and hotels. Yet on 23 March 2020, it all nearly came crashing down. Boris Johnson's announcement that the UK was entering a national lockdown hit many businesses, but few were devastated quite as much as Reynolds – and still survived.
Within hours of the PM's announcement, Reynolds had lost 95% of total sales as its restaurant, hotel and catering customers all shut up shop. By the end of the month, only NHS and care home contracts remained.
"I can remember vividly going in the next day, after working through the night trying to make sense of it, and calling an emergency board meeting," Reynolds recalls. "I spoke to my finance director Andy and asked how bad it was. He said the way he'd calculated it, we were going to blow a million pounds a week. I lost around £3.5m of stock as a consequence of Boris' announcement."
Drastic action was called for and Reynolds was forced into shedding staff and assets to survive. "We closed depots down, we closed warehouses down, we took trucks off the road and ultimately, we also made 650 people redundant," Reynolds says. With the Chancellor yet to implement the furlough scheme at the time, there was little choice.
"The easiest thing to do would have been to mothball the entire company," he continues. "A lot of my customers had to do that, because if they owned pubs, restaurants, or hotels, there was no choice. But I still had NHS customers, I still had nursing homes and several other things which were open and needed by the country," he says. "To be honest if we'd closed, I don't think we would've had a business to come back to. We would've lost our way."
Snapshot
Name: Tony Reynolds
Job: MD at Reynolds wholesaler, one of the largest fruit and veg suppliers for foodservice
Favourite fruit or vegetable: Avocados
Best business decision: Following my passion of wanting to be the very best I can be
Worst business decision: Making mistakes and not learning from them
Business philosophy: Surround yourself with a great team
Favourite musical artist: We have a box at The O2 so we get to see some great live performances
All-time favourite footballer: Glenn Hoddle
'I absolutely hated it'
And there was so much to lose. Reynolds has been involved with the company that bears his name since he was a child, helping out on the stall during holidays and weekends. Not that it exactly inspired him to join the ranks.
"I absolutely hated it," he says. He wanted to be a footballer and was on the books at Crystal Palace when Terry Venables was manager. Unfortunately, the dream did not work out. He did a short stint in banking instead, before finally realising he was better suited to running his own business.
When he finally took over Reynolds in 1989, he didn't hang around before stamping his mark on things. He opened a larger venture at the old Spitalfields Market in Whitechapel, a move that saw turnover climb past the £50m mark by the mid-2000s.
"In that period, it was bit like the wild west out there," Reynolds says. "The eating out industry was on fire, and private equity had just got into it.
"By 2019, it was still rock and roll," he continues. "The investment was coming through and we were projecting £250m in turnover in 2020. It seemed like this was our moment."
Alas. As Reynolds himself puts it, Covid meant "we went from hero to zero in 10 months." It was a frantic few months for the business, pulling out every stop to try and save it. The first step was to cut the losses, a move that meant pitching in wherever possible.
By the end of 2021, Reynolds had managed to stem them to about £250,000 a week, an amount ultimately covered by a sale and leaseback agreement on part of its Waltham Cross distribution centre.
Prior to the pandemic, the entire Waltham Cross site was valued at around £25m, a figure Reynolds felt was undervalued given the rapid appreciation in warehousing outside London. So when Covid struck, Reynolds employed an agent to negotiate a sale and leaseback on half of the site, suddenly worth £44m. "It was great. We paid off all of our Covid loans, and then I had a war chest to go off and do other things."
It also funded two acquisitions: Davin Foods, a supplier of prepared vegetables, fruit, salads and juices to high-end hotels and banqueting venues in August 2021, strengthening Reynolds' prepared foods capability; and Mash Purveyors, a wholesale grocer founded in 1860 that was badly affected when the pandemic hit. Indeed, that early injection of cash gave Reynolds the confidence to think that maybe the wholesaler could not only survive the ongoing turmoil, but use it as a chance to build for long-term sustainability.
This ethos led him to keep the full IT department on at full pay, doing "about five years of development work in 18 months" in an effort that cut the cost base dramatically. "We've got this platform of scalability now and this ability to take an order from anyone in the foodservice market and get that facilitated on one truck.
"If you've got a group of restaurants and you want consistency, we're the ones that deliver it better than anyone else, and we're keen to add more value to that."
The strategy moving forward aims to support existing customers through the current challenging trading environment, where costs are increasing, and labour shortages are rampant.
The business has already given customers different options on supply. "We've got our main fruit and veg business which is how it all started, but we've added lots of other categories to that. We've got dairy, we've got fresh meat and fresh fish." It has also added a manufacturing side to the business. For example Reynolds now offers an extended range of added value products, such as ready-made fresh salads and cooked meats which allows businesses suffering from labour shortages to de-skill their kitchens.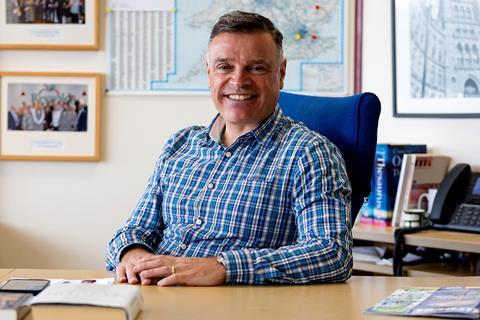 "We're able to innovate for them and give them some cost-effective solutions against the backdrop of the current cost pressures."
The business is also looking to expand its offering through further acquisitions. "We've got a couple of acquisitions in play at the moment. We're hoping in the next few weeks that we'll have at least one of these over the line."
Reynolds says the business has learnt a lot about itself after the shock that happened. "Your ability to get through things is incredible if you've got the right mindset," he says. "We've come out of it stronger. We learnt to operate in a different way and although we haven't got all of our business back, 75% of it has come back."
There are still clearly struggles. Reynolds fell from 18th to 29th in The Grocer's annual list of Britain's biggest wholesalers in 2022 after a 58% fall in turnover and losses stretched to £13m through the pandemic.
Nonetheless, Reynolds remains buoyant. "I was lucky," he concludes. "I had some great people round me that wouldn't lie down. I've got an eclectic mix of characters and when you're in the trenches, boy do you appreciate that."