The brief was simple: build a "beautiful, sustainable and profitable business". The timing was trickier: from online shopping, to the rise of the discounters and, of course, Brexit, Fortnum's has had to face into some big changes, same as everyone else.

It's a challenge CEO Ewan Venters has risen to admirably. In the seven years he's been at its helm, Fortnum & Mason has tripled in size, with a 12% rise in sales in 2017/18 (£113m to £126m) marking its sixth year of double-digit growth. Plus, profits jumped 26% to £9.6m.

So how does it keep growing? And what's next?

The biggest transformation has been in the mix. When Venters joined, 60% of its trade was from international tourism and 40% was local. Now, the team has "completely reversed that statistic", a feat Venters deems his "proudest success". "For a business to succeed it has to be relevant, and to be relevant you have to appeal to your home audience." But it's not as though people are doing their regular shop at Fortnum's, surely? "Absolutely, we have some core local shoppers who do use us for a pint of milk," says Venters. The most famous of these is Stephen Fry, who shops there a few times a week when in London.

For Venters, though, it's more important to remind commuters and domestic tourists that "we are a shop for them", by "communicating the benefits and the values of our products, and why they are so special".

Fortnum's products, he argues, may be premium price but "they're not expensive". The value is the combination of quality, price, packaging, design and service, which "sadly so many retailers have completely forgotten". A prime example being Glenarm beef: sourced from Northern Ireland, it's the "finest fresh beef in the country". "We're now doing £1m-plus a year on beef sales from our butchery counter. Those aren't international tourists. They're domestic consumers who are coming back to buy it on a frequent basis."

Venters remains "relentlessly focused" on product quality and differentiation. With launches such as 'sparkling tea', a special kumquat cheesecake for Chinese New Year, and a £1.1m revamped confectionery department opening 16 September, he believes "opportunity for intelligent growth remains".

Of course, this growth won't all come from NPD. New space is important too. Fortnum's has expanded beyond its flagship Piccadilly store, adding three smaller shops at St Pancras (2013), Heathrow (2014) and the City of London (last November). These all reported record sales in the lead-up to last Christmas.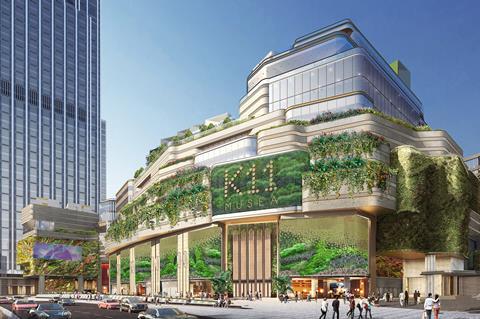 This November, Fortnum's will open its first international store in Hong Kong. Currently overseas trade makes up just 4% of its sales, but Venters hints that the Hong Kong store will be the first of many.

He is also pushing the "hugely important" restaurant side. "Our restaurant in the City of London is flourishing," he says. And, as people increasingly want to eat at different times of the day, he says restaurant and bar concepts will become a bigger part of the business.

Fortnum's continues to invest "heavily" in digital as well. It delivered to 126 countries around the world last year and 18% of its sales are now online. "The opportunity to leverage the brand globally through our online platform is boundless." And it's not just a mail order business, with local deliveries causing traffic hold-ups outside the Piccadilly store, he admits.

Although online will be a crucial part of the mix - for Fortnum's itself and the wider grocery sector - the physical retail experience remains the most important. "Younger customers, 'generation Z' in particular, are demonstrating less appetite to use online relentlessly," he says. As the population grows and residences become smaller, people "don't have the space for supersize". This, he claims, provides retailers a "huge opportunity" to make customers "fall back in love with the art of shopping in the physical store".

Despite its drive to bring in more UK customers, Fortnum's is still reliant on international tourists. So, as Brexit looms, is Venters concerned? He laughs off the question: "The good news is we've been in business for 312 years, so I suspect we'll continue to be in business."

However, he insists the grocery sector overall must move to a "far more localised supply base and selling approach". "Agriculture is under the greatest threat as a result of Brexit, and government needs to make sure the agricultural community is well-protected so it can produce efficiently to service local communities."

He is quick to clarify that this shouldn't be "misunderstood as a pro-British point of view" - after all, you've got to source the best ingredients from where they're grown - but "we owe it to the country to really get behind local supply chains".
Snapshot
Name: Ewan Venters
Age: 47
Potted CV: Sainsbury's; Brakes; Selfridges; Fortnum & Mason
Best career decision: Joining Selfridges. Without that experience, I would never have qualified to lead Fortnum & Mason
Business idol: Tom Vyner was the highly successful deputy chairman & CEO of Sainsbury's - I was his PA in my early 20s and working for Tom was my on-the-job university. A brilliant man
Business mantra: Always hire smart people - they tend to make you look good
Best piece of advice given or received: Never assume!
Hobbies: Skiing, playing tennis, shooting, and art
Favourite book: The Finkler Question, by Howard Jacobson
Favourite film: Sunshine on Leith - set in the beautiful city of Edinburgh with great music by The Proclaimers
Desert island meal: White truffle risotto cooked by Angela Hartnett or lobster and chips with homemade mayonnaise by Mark Hix