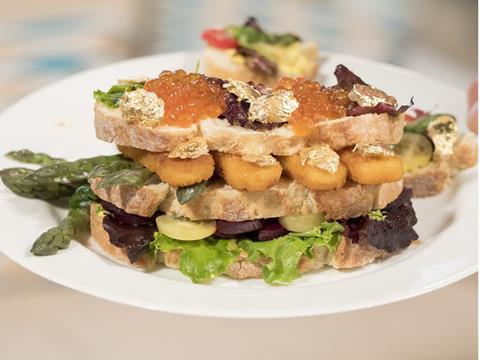 Happy birthday again, Your Maj! The Queen is today celebrating her 90th birthday for a second time - making her a remarkable 180 years old.

To mark the occasion, Liz will be looking for a lighter snack than the cake eaten on her actual birthday back in April. Luckily for her, Birds Eye head chef Peter Lack (formerly of the Savoy) has created a special posh fish finger sandwich.

Vulgarly billed 'the world's most expensive', the sarnie is made with fancy artisan bread, and features blanched asparagus, baby beetroot, caviar, saffron mayonnaise, 'edible violets' - and fish fingers, of course, though these 'Cod Save the Queen' ones are coated in edible gold leaf, natch.

You'll have to instruct the cook to take £187 out of petty cash if you want one, mind. And judging from its somewhat unwieldy appearance, you might need a bit of help - perhaps from the butler - to actually eat it.