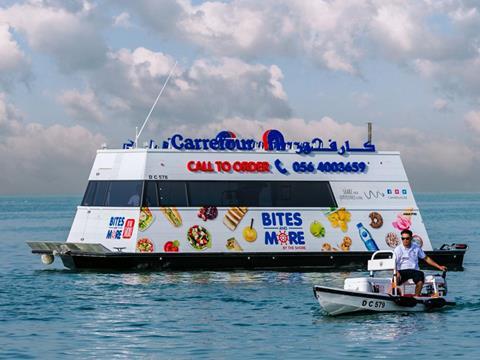 Do you feel fancy when you show up at the supermarket's drive-thru click & collect station? In one-upmanship paradise Dubai (home to the in-no-way Freudian world's tallest building), there's now a swankier version - the sail-thru supermarket.

Retailer Majid Al Futtaim has launched the catchily titled 'Carrefour Bites and More by the Shore'. A custom-built Aqua Pod (or 'boat') serves more than 300 products (mainly rum and seasickness tablets, we imagine) to customers on yachts and jet-skis.

Simply sail up and place an order at the pod's window. Or if you're worried about denting your superyacht, phone through or use the service's app, and a skiff will deliver within 45 minutes - thankfully the Persian Gulf is big enough to accommodate the classic delivery driver double-parking move.

The battery-powered Aqua Pod only uses biodegradable paper straws and bags, and even operates a 'seabin' that vacuums in any floating debris. Expect one to show up off the Skegness coast before long.