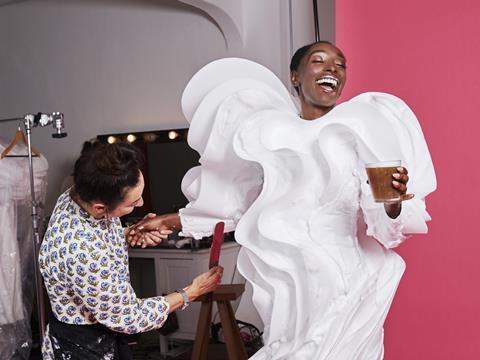 Fashion is often dismissed as a 'frothy' subject - an image Costa Coffee is doing little to dispel with its own venture into clothing.

To mark the introduction of its new velvety-soft whipped milk into outlets, the coffee chain has hired designer Kate Tabor - who has previously come up with outlandish outfits for Kylie Minogue and Katy Perry - to create some coffee shop couture.

Tabor spent more than three weeks on three fabulous gowns, starting off with hardy neoprene shells, before applying some 20 metres of wetsuit material and 12 litres of foam, in an effort to replicate the 'meringue-like' appearance of Costa's whipped milk.

They're not exactly practical - pretty much any kind of weather or movement will eventually do them in, while Costa staff are unlikely to be delighted with the foamy bum-prints wearers might leave on the furniture - but this is almost certainly the sort of thing Coco Chanel was talking about when she said "in order to be irreplaceable one must always be different".