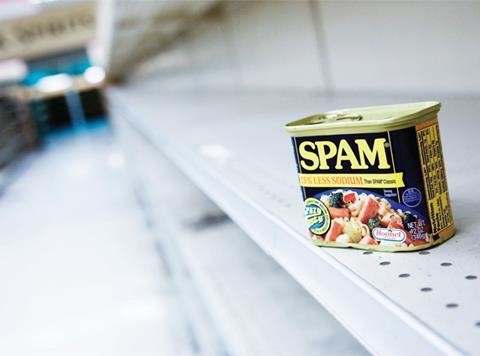 Darlings, as a minister of state it goes without saying that I stand squarely behind the deal Theresa May-Day has struck with Monsieur Barmier, and am firmly persuaded that she will see it through parliament just in time for a Merry Brexmas!

However, as She With Whom the Buck Stops when the Excrement Hits the Ventilator I'm a trifle concerned there doesn't appear to be anywhere to keep the nation's rations of Spam, spaghetti hoops, egg powder and Bovril, which are piling up in a supermarket RDC near you (if you live in the south or Midlands, anyway).

Now I do prefer Bond Street to Hinckley DCs for my field trips, but at least they give you a lovely polythene boiler suit to stop you picking up bugs or the local accent. Through an interpreter I gleaned that we've run out of storage space. And the thought did occur to me that the more imported grub the trade can whack into aircraft hangars at pre-Brexit prices, the more money it will make releasing the stock behind the WTO smokescreen when the time comes. Assuming it hasn't gone off, of course.

Then I remembered that with Mrs May's withdrawal agreement a racing certainty, I have absolutely no need to worry.

What with inflation in warehouse charges running sky-high I did have an idea, though. Uncle Don's latest business venture - advising M&S on lingerie merchandising - has recently run into difficulty. So the family has a number of prime railway arches in Digbeth unexpectedly available. Applications to the usual address, sweeties.