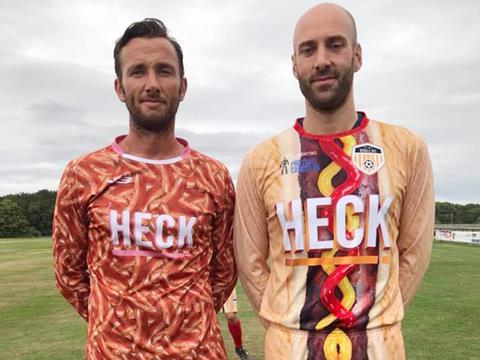 It's one of the two weeks a year when the football isn't on, so thank heavens for Heck, which has revealed its latest kit sponsorship deal with the mighty Bedale FC.

The team, which plays in both the North Riding League and the Harrogate & District League, attracted attention last year after it linked up with the sausage brand to create one of the beautiful game's more eye-catching kits.

The sausagey strips have divided opinion, with some declaiming it as the wurst they've ever seen. Some love it, however, and even if you're not keen on the hotdog theme (it's particularly disturbing once it reaches the shorts area), it's hard to dislike the inclusion of the phrase 'you'll never pork alone' on the back.

The strip is now available to buy via historicfootballshirts.co.uk, with 25% of every sale going to Prostate Cancer UK, in memory of team pal Steve Garbett.