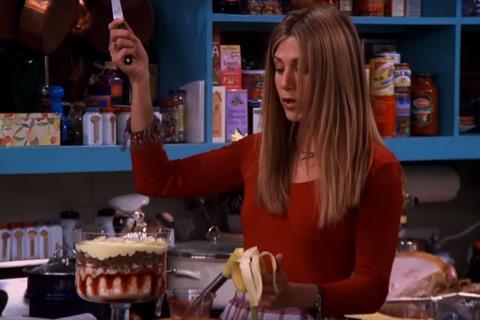 Even though it ended some 16 years ago, enthusiasm for US sitcom Friends seems never to have waned. And as it's quite difficult to see actual friends right now, it's as good a time as any to release a tie-in book.

Orders are being taken now for Friends: The Official Cookbook, by chef Amanda Yee. She's assembled more than 100 recipes including Chandler's 'milk you can chew' and Ross's 'moist maker' sandwich, which featured an additional gravy-soaked slice of bread. There's a take on Rachel's 'English trifle' (a sweet dish that contained beef) too.

It's not all borderline appalling, though. Yee has written in steps to ensure said trifle doesn't "taste like feet". And after all, two of the Friends – Monica, a chef, and Phoebe, a caterer for a time – worked in food, and the gang spent most of their time in a fancy coffee shop. Don't forget Joey risked his life for a meatball sub, too, and Ross nearly lost his job over that sandwich.

So, pull on your Thanksgiving pants and get set for a feast!