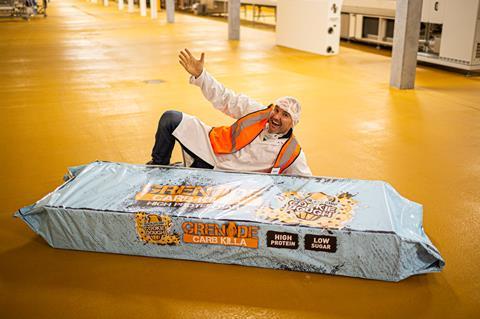 As the nation stockpiles, it's become clear that, as long as it's possible to sweep an entire shelf into our trolleys, we're basically not grown-up enough to only buy one or two items.

The solution? Bigger, more energy-packed SKUs. And behold! This massive Grenade Carb Killa bar is just the ticket. Made to mark five years of the proteinous treat, it's 1.8m long, 62.5cm wide, and weighs a mighty 239kg.

It's equivalent to a total of 3,716 regular sized Cookie Dough Carb Killas and, according to Grenade founder and CEO Alan Barratt, is "nearly a million calories".

The monolithic munch has been certified as the world's largest protein bar by the people at Guinness, who demand that such stunts are entirely edible before they dole out the certificates – and the bantz: "Grenade has certainly raised the bar with this giant protein snack achievement," winked Guinness World Records adjudicator Paulina Sapinska.

So, we know it can be done – how about knocking up a few more, Grenade?